Focus
Attending simultaneously to the embodied, embedded, enactive, and extended aspects of cognition
Principal Metaphors
Knowledge is … the scope of possible action and interpretation
Knowing is … doing, being
Learner is … a perceiver/interpreter (individual)
Learning is … creating; bringing forth (to meet to demands of a situation)
Teaching is … coupled participation
Originated
2010s
Synopsis
The four E's of 4E Cognition stand for embodied, embedded, enactive, and extended. 4E Cognition is a perspective on cognition that asserts that, to understand mind, one must look within and across the dynamic interactions of the brain, body, social environments, and physical environments.
Commentary
4E Cognition isn't so much a theory of cognition as it is a summary of contemporary Coherence Discourses.
Authors and/or Prominent Influences
Albert Newen Leon De Bruin Shaun Gallagher
Status as a Theory of Learning
4E Cognition is a theory of learning.
Status as a Theory of Teaching
4E Cognition is not a theory of teaching.
Status as a Scientific Theory
4E Cognition is a young, but scientifically robust perspective and movement.
Map Location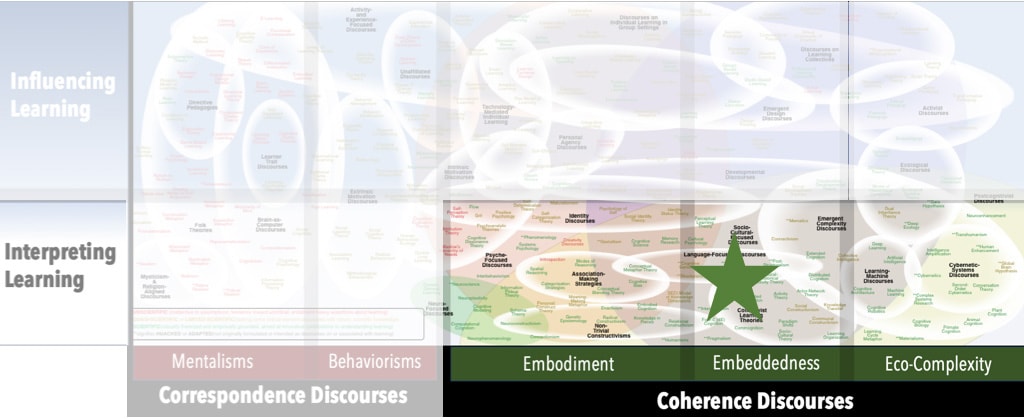 Please cite this article as:
Davis, B., & Francis, K. (2020). "Four-E (4E) Cognition" in Discourses on Learning in Education. https://learningdiscourses.com.
⇦ Back to Map
⇦ Back to List