AKA
Real-World Learning
Focus
Structures and emphases to support individual learning
Principal Metaphors
Knowledge is … personal constructs
Knowing is … engaging meaningfully
Learner is … an active agent (individual learning)
Learning is … constructing
Teaching is … guiding, facilitating
Originated
early-1900s
Synopsis
Authentic Learning is used to refer to a great variety of perspectives on learning and teaching – making it easier to describe in terms of what it isn't than what it is. Authentic Learning is not traditional standardized education; it is not teacher-centered; it is not organized around a fact-focused, pre-set curriculum. Typical (but not universal) qualities include active exploration, higher-order thinking, meaningful social interaction, real-world problems, learner-relevant topics, and differentiated teaching strategies. Mentions of "constructivism" tend to figure prominently, but interpretations span the full spectrum from simple invocation of the Construction Metaphor to more sophisticated treatments of Radical Constructivism. Associated discourses and constructs include:
Authentic Activities (Elfrieda Hiebert, 1990s) ­– tasks that are reflective of or identical to those that learners can expect to encounter outside of school
Authentic Pedagogy ­– a variously defined term. In the mid 1960s, the phrase was used in reference to instruction and evaluation practices that were correlated to higher achievement scores. That meaning persists in workplace training. However, most contemporary uses of the term are consistent with Authentic Learning as described above – that is, revolving around authentic tasks that engage the learner and support the development of more sophisticated understandings.
Commentary
Authentic Learning is sometimes perceived as a coherent educational movement, but it is actually fragmented and oftentimes at odds with itself. That fact is evident is ambiguities and contradictions in some of its principal vocabulary. For instance, Authentic Learning is typically aligned with (and often treated as synonymous to):
Developmentally Appropriate Practice – Both an educational philosophy and a teaching approach, Developmentally Appropriate Practice is about tailoring topics and experiences to the learner's cognitive, physical, emotional, and social levels of development. It it usually discussed in relation to specific Developmental Discourses.
Readiness – a vague construct used to refer to what children are able to do and/or prepared to learn. Readiness is often treated more-or-less synonymously with Developmentally Appropriate Practice, but some uses are more aligned with traditional schooling structures, as in:

School Readiness – a descriptor applied to programs and courses that are designed to prepare pre-Kindergarten-age children to participate in school
Readiness Test – a formal tool to assess what one already knows in a particular domain, usually along with levels of mastery of study skills associated with that domain, in order to predict the effectiveness of a specific program of instruction. Most Readiness Tests are associated with literacy or mathematics learning and are formalized to the extent that they should be administered by credentialed specialists.
Authors and/or Prominent Influences
Diffuse
Status as a Theory of Learning
Authentic Learning is not a theory of learning.
Status as a Theory of Teaching
Most versions of Authentic Learning are theories of teaching.
Status as a Scientific Theory
While some versions of Authentic Learning are associated with robustly supported practices, broadly speaking, the discourse is more appropriately understood as ideological than scientific.
Subdiscourses:
Authentic Activities
Authentic Pedagogy
Developmentally Appropriate Practice
Readiness
Readiness Test
School Readiness
Map Location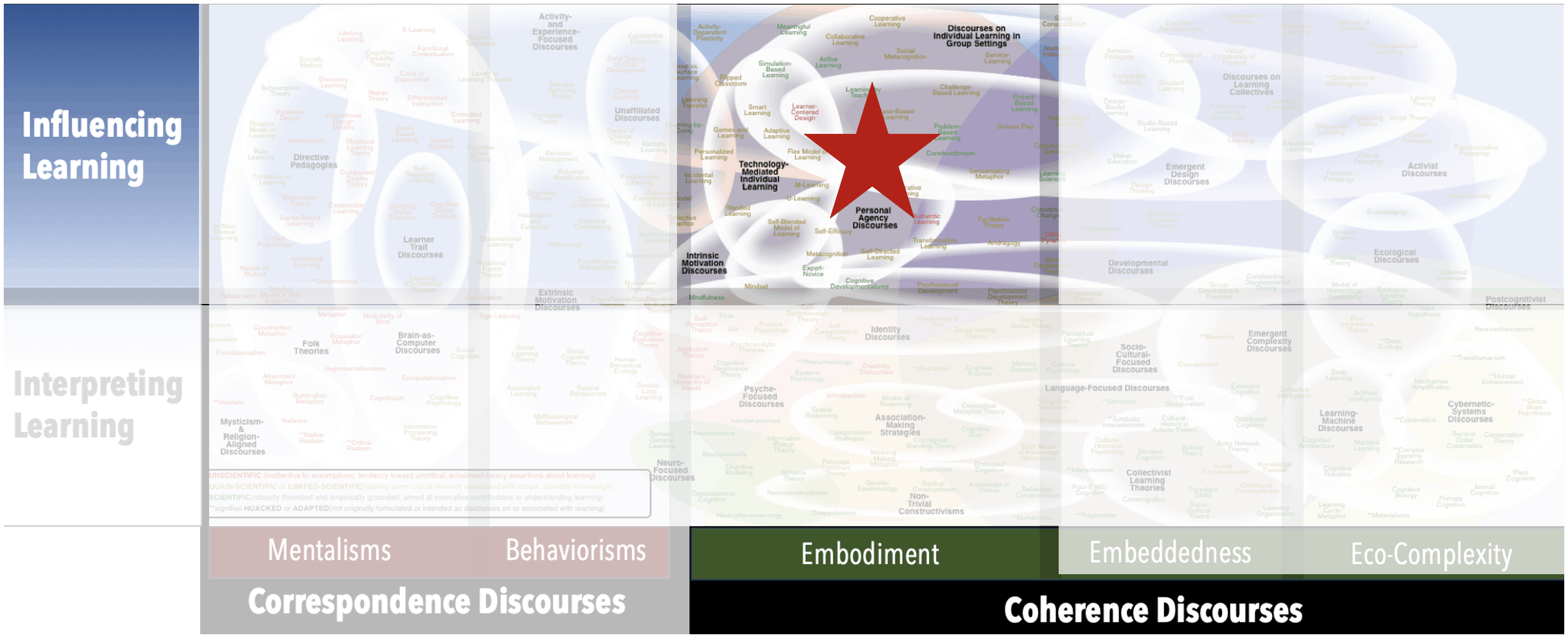 Please cite this article as:
Davis, B., & Francis, K. (2023). "Authentic Learning" in Discourses on Learning in Education. https://learningdiscourses.com.
⇦ Back to Map
⇦ Back to List