We encourage you to incorporate your land acknowledgement of the traditional territories where you reside.
Brent Davis is a Werklund Research Professor in the Werklund School of Education at the University of Calgary, Calgary, Canada. His research is focused on the educational relevance of recent developments in the cognitive and complexity sciences, with particular interests in teacher knowledge and mathematics learning.
Krista Francis is an associate professor in the Werklund School of Education at the University of Calgary, Calgary, Canada. Her research focuses on the teaching and learning mathematics with technology, with particular interests in the connections of spatial reasoning and learning mathematics.
This site was made possible by support received through the Werklund Professor program. It is licensed under a Creative Commons Attribution-NonCommercial-ShareAlike 4.0 International License.
c
Related Publications
c
Davis, B., & Francis, K. (2021). Discourses on Learning in Education: Making sense of a landscape of difference. Frontiers in Education.
https://doi.org/10.3389/feduc.2021.760867
Abstract: There are hundreds, perhaps thousands, of "theories of learning" at play in the field of education. Given scant agreements on the meaning of "learning" and the purpose of "theory," such quantity is perhaps unsurprising. Arguably, however, this situation is indefensible and debilitating in an academic domain so focused on interpreting and influencing learning. We describe our own efforts to come to terms with this matter. Oriented by Conceptual Metaphor Theory and Network Theory, we are attempting to "map" contemporary treatments of learning – whether implicit or explicit, written or spoken, descriptive or prescriptive, formal or informal, scientific or folk. We report on our iterative process, evolving design, and emergent insights. We discuss the potential relevance of this and similar efforts for the future of educational research and practice.

c
Davis, B., & Francis, K. (2022). Engaging Minds: Evolving Learning and Teaching (4th edn.). Routledge.
Abstract: Engaging Minds explores the diverse beliefs and practices that define the current landscape of formal education. The revised, updated, and expanded fourth edition of this introduction to current interdisciplinary studies of teaching and teacher education is grounded in the analyses and syntheses of the thousands of discourses on learning in education that are review on this site, and the book is structured around five "frames" of formal education located in the bottom bar on our Map page: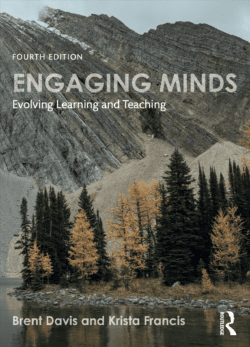 These frames serve as the foci of the five chapters of the book, each with three sections that deal, respectively, with history, epistemology, and pedagogy within the frame.
c
c
Davis, B., Towers, J., Chapman, O., Drefs, M., & Friesen, S. (2020). Exploring the relationship between mathematics teachers' implicit associations and their enacted practices. Journal of Mathematics Teacher Education, 23(4), 407–428.
http://dx.doi.org/10.1007/s10857-019-09430-7
Abstract: We examine the relationship between how teachers talk about teaching and their actual teaching practices. Analyses of their talk were based on extensive transcripts and writings and focused on metaphors and images invoked when discussing knowledge, learning, and teaching. Three distinct and coherent webs of association were identified, which we describe as "traditional," "reform," and "middling." For both traditional and reform teachers, preferred webs of association proved to be highly consistent with classroom practices. For teachers who tended to draw on the "middling" web, practices tended to vary dramatically, and habits of speaking appeared to be linked to frustrations with teaching. Implications for professional learning are discussed.
Davis, B. (2018). On the many metaphors of learning … and their associated educational frames. Journal of Curriculum Studies, 

50
(2),
182–203.
https://doi.org/10.1080/00220272.2017.1330423
Abstract: Current landscapes of curriculum discourse and educational practice are examined by focusing on co-evolutions of metaphors for knowledge, learning, and teaching across four prominent "frames" – namely, Standardized Education, Authentic Education, Democratic Citizenship Education and Systemic Sustainability Education. It is argued that these frames become compelling and resilient (or repulsive and nonsensical) – not because of what they explicitly assert, but because of the coherence of their implicit webs of vocabulary, metaphor, image, and ideological association. While some of these frames/webs may be embraced as complementary, more often they are treated as conflicting or incoherent – in part, it would seem, because of tensions among their mainly implicit substrates of figurative association.
c
Francis, K., Davis, B., & Sabbaghan, S. (n.d.). Metaphors of Learning in Different Languages.
Abstract: With few exceptions, the discourses on our learningdiscourses.com map were authored in English. For those that were developed in other languages, we relied on English translations. Aware that the ecosystems of association of other languages are likely to support dramatically different sensibilities, we have started work on a project we hope might afford some access to discourses that may not be translated (or translatable) to English: We are engaging with educational researchers, whose native tongues are other than English, to identify principal metaphors for learning and associated flocks of association in their first languages. Although still early in the project, we can report that metaphors have emerged that are not represented in any of the thousands of discourses on learning that have been reviewed for this site.
c
Our Sources
We consult a variety of sources, including original writings, scholarly essays, research reports, professional literatures, classroom resources, and online sites. We range widely because we aim to assemble both broad-based descriptions of popular usages and reasonably sound explications of authors' original proposals. Were we to attempt to include reference lists, then, most would be extensive and necessarily incomplete, thus risking false impressions that some sources are privileged while others are ignored.
Inconsistencies across interpretation are flagged whenever they are encountered, especially when they occur between the descriptions offered by seminal thinkers and those promoted by commentators or embraced by practitioners. When original writings are in translation, we attempt to consult multiple versions, looking in particular at core metaphors and images. We have encountered more than one instance of translated terms that exist in very different ecosystems of association across languages. (An especially cogent instance is the French infinitive construire, which has been translated as both to construe and to construct. Without additional context, opting for one or the other can frustrate explications of the Construction Metaphor, Non-Trivial Constructivisms, Structuralism, and other prominent discourses.) As well, we occasionally come across dramatically different vocabularies and foci when comparing academic and professional literatures purporting to address the same discourse. (Two striking examples here are Embodied Cognition vs. Embodied Learning and Neuroeducation vs. Brain-Based Learning.) We represent our grapplings with such matters in different ways, most often flagging them in our analyses of the "Principal Metaphors" sections of the entries.
c
Feedback
Despite our efforts to assemble informed and defensible summaries, as noted above, we're well aware that there will be unintended misreadings, distortions, and absences. We are committed to updating and revising the site as we learn more, and so we welcome advice, corrections, and queries.
If you wish to contact us, please email brent.davis@ucalgary.ca