Focus
Differentiated and ranked modes of thinking
Principal Metaphors
Knowledge is … established facts and creative possibilities based on those facts
Knowing is … recalling (to apply, analyze, evaluate, create)
Learner is … a student (individual)
Learning is … remembering and understanding
Teaching is … structuring experiences (to engage all cognitive levels)
Originated
1940s
Synopsis
Most commonly, Bloom's Taxonomy is understood as a hierarchal model of educational learning objectives that identifies distinct modes of engaging with knowledge. Originally developed in the mid-1900s, the current (2001) version comprises: Remember, Understand, Apply, Analyze, Evaluate, Create. In the original work, a taxonomy for the affective domain (emotion-based) was also developed: Receiving, Responding, Valuing, Organizing, Characterizing. The need for a taxonomy in the psychomotor domain (action-based) was identified, but one was not developed. (A few models have since been proposed.) Bloom's Taxonomy has been subject to numerous revisions since its original publication. Notable revisions include:
Revised Bloom's Taxonomy (David Krathwohl, 2000s) – a two-dimensional model by adding a "Knowledge Dimension" (comprising four types: Factual, Conceptual, Procedural, Metacognitive) to the cognitive processes identified in Bloom's Taxonomy, resulting in many more, finer-grained categories of consideration.
Bloom's Twist – This phrase has emerged as a catch-all for updates to (i.e., rewordings, elaborations, and/or reformattings of) Bloom's Taxonomy. )
Commentary
As with many popular educational taxonomies, Bloom's Taxonomy originally lacked a systematic rationale for construction. Consequently, the model may be more an instantiation of common wisdom than a contribution to thinking. In addition, the tendency to describe the taxonomy in hierarchical terms has prompted many educators to focus on the higher levels and give limited attention to the lower – often in active ignorance of the simultaneity of such competencies in many problem-solving settings and the critical role of facts and skills in supporting creative competencies across most domains.
Authors and/or Prominent Influences
Benjamin Bloom
Status as a Theory of Learning
Bloom's Taxonomy is not a theory of learning.
Status as a Theory of Teaching
Bloom's Taxonomy is a theory of teaching – or, more descriptively, a model of learning objectives. Through the last half of the 20th century, it likely played an important role in efforts to critique and elaborate traditional, standardized educational emphases by presenting a vocabulary that helped to interrupt assumptions on the nature of learning and the aims of schooling.
Status as a Scientific Theory
Bloom's Taxonomy is not a scientific theory and was not originally based or associated with any effort to gather empirical evidence. With specific regard to theories of learning, no part of taxonomy addresses the complex dynamics of the phenomenon of learning. Some studies have been generated to show its usefulness in supporting learner achievement and attitude (in comparison to rote-based instruction).
Subdiscourses:
Bloom's Twist
Revised Bloom's Taxonomy
Map Location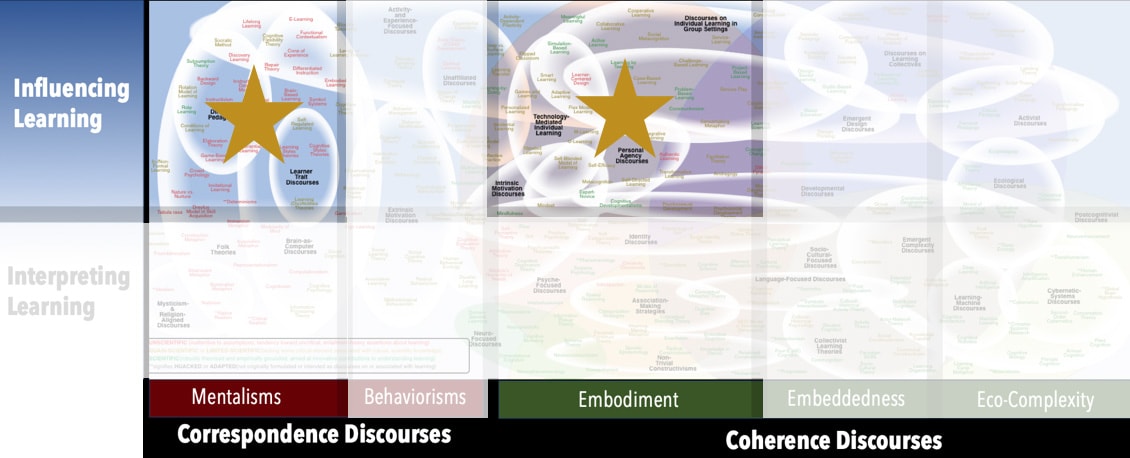 Please cite this article as:
Davis, B., & Francis, K. (2020). "Bloom's Taxonomy" in Discourses on Learning in Education. https://learningdiscourses.com.
⇦ Back to Map
⇦ Back to List