AKA
Choice Theory
Focus
Helping learners to live a "good life"
Principal Metaphors
Knowledge is … responsible participation
Knowing is … self-directed action
Learner is … an agent (individual)
Learning is … developing agency
Teaching is … empowering learners
Originated
1990s
Synopsis
Choice Learning begins with the assumption that one's decisions and behaviors are oriented by a desire for a "good life." The learner is thus seen as a self-directing individual who seeks to fulfill basic life needs – including physical needs that are encoded in the genome; survival needs having to do with nutrition, shelter, and security; and psychological needs around such matters as caring, acceptance, efficacy, pleasure, choice, and curiosity.
Commentary
Choice Learning might be interpreted a mash-up of several currently popular topics of discussion that are clustered among Personal Agency Discourses and Motivation Theories. Its contribution is more pragmatic than theoretical, as it offers direct, step-by-step advice to educators on how to help learners develop senses of control over their lives while growing into responsible and productive members of society.
Authors and/or Prominent Influences
William Glasser
Status as a Theory of Learning
Choice Learning offers no new or innovative insights into how humans learn.
Status as a Theory of Teaching
Choice Learning is properly understood as an educational attitude that is principally concerned with supporting the development of personal agency among learners. In that regard, it is properly described as a discourse on teaching.
Status as a Scientific Theory
Choice Learning is more a philosophy of education than a perspective of learning. While arguably a sound emphasis for modern schooling, it meets none of our criteria for a scientific theory.
Map Location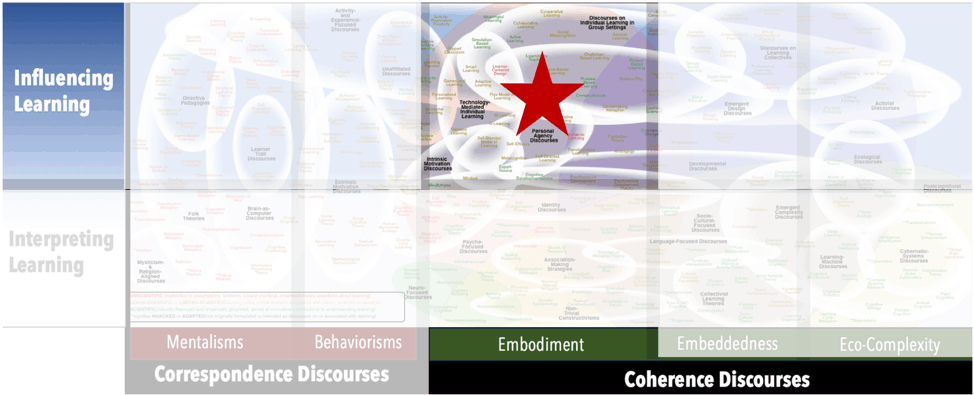 Please cite this article as:
Davis, B., & Francis, K. (2020). "Choice Learning" in Discourses on Learning in Education. https://learningdiscourses.com.
⇦ Back to Map
⇦ Back to List