Focus
Master–apprentice relationship
Principal Metaphors
Knowledge is … mastered skill
Knowing is … level of skill mastery
Learner is … an apprentice (individual)
Learning is … apprenticing
Teaching is … modeling, coaching, scaffolding
Originated
1980s
Synopsis
Cognitive Apprenticeship is focused on the pedagogical processes associated with master–apprentice relationships, with a particular interest in rendering usually tacit practices more explicit. On the master's/expert's side, Cognitive Apprenticeship is concerned with strategies used to communicate critical elements of the skill, varieties of supervision, and structures of feedback:
Coaching – Based on a metaphor of "carrying one through" (i.e., in a "coach"), "teaching as coaching" involves interactive supervision of learners' actions, offering focused, tailored, and timely feedback. Models of Coaching are typically aligned with Expert–Novice discourses, by which one with greater experience and/or skill guides or mentors another.
Elaborative Interrogation (Tim Seifert, 2010s)– asking higher-level questions (e.g., Why? How?) about a new idea, which are intended to help the learner to make new connections to while further developing established understandings
Inquiry Teaching (Allan Collins, Albert Stevens, 1980s) – similar to the Socratic Method, posing well-structured questions that enable learners to identify issues with their thinking and refine their formulations
Instructional Scaffolding – Based on the Scaffolding of Socio-Cultural Theory, "teaching as scaffolding" involves an incisive awareness of the learner's competencies in the moment so that appropriate prompts and supports can be provided. Variations include:

Distributed Scaffolding (Sadhana Puntambekar, Janet Koloder, 1990s) – a variant of Instructional Scaffolding, in which special emphasis is given to multiple and varied sources, types, and levels of support for learners as they develop skills and understandings

Modeling – In relation to teaching, "teaching as modeling" involves presenting an example for others to imitate. This notion is subject to diverse and incompatible interpretations. For example, to teach long division, one might model a rigid set to steps to be obeyed, or one might model the discernments and connections that underpin common algorithms. The latter is more consistent with Cognitive Apprenticeship.
On the apprentice's/novice's side, Cognitive Apprenticeship is concerned with types and extents of practice, steps toward mastery, social supports, and strategies for reflection:
Articulation (Hilary McLellan, 1990s) – Akin to Expressive Constructivism, Articulation involves "re-presentation" – that is, using an appropriate mode of communication to express how one is combining aspects of experience into more complex construals.
Exploration – In the context of Cognitive Apprenticeship, Exploration is akin to the Gradual Release of Responsibility Model (under Levels of Learning Models). Concisely, teacher control should diminish as learner competence develops, enabling the learner to become more responsible across all aspects of the learning process.
Reflection – In the context of Cognitive Apprenticeship, Reflection refers to opportunities to compare one's strategies and interpretations to those of a more-expert knower.
Commentary
As with companion theory Situated Learning, Cognitive Apprenticeship is focused on adult learning. The theory is thus most prominent in adult education, and efforts to extend its principles and recommendations to public school settings often feel strained and artificial.
Authors and/or Prominent Influences
Allan Collins; John Seely Brown; Susan E. Newman
Status as a Theory of Learning
Cognitive Apprenticeship is not a theory of learning, as it does not engage with the complex dynamics of learning and cognition.
Status as a Theory of Teaching
Cognitive Apprenticeship is a theory of teaching.
Status as a Scientific Theory
It would be a stretch to describe Cognitive Apprenticeship as scientific. Although it does draw on scientific theories of learning, and while it does have some research support, it is falls more in the category of advice based on those theories than a discourse supported by robust empirical evidence.
Subdiscourses:
Articulation
Coaching
Distributed Scaffolding
Elaborative Interrogation
Exploration
Inquiry Teaching
Instructional Scaffolding
Modeling
Reflection
Map Location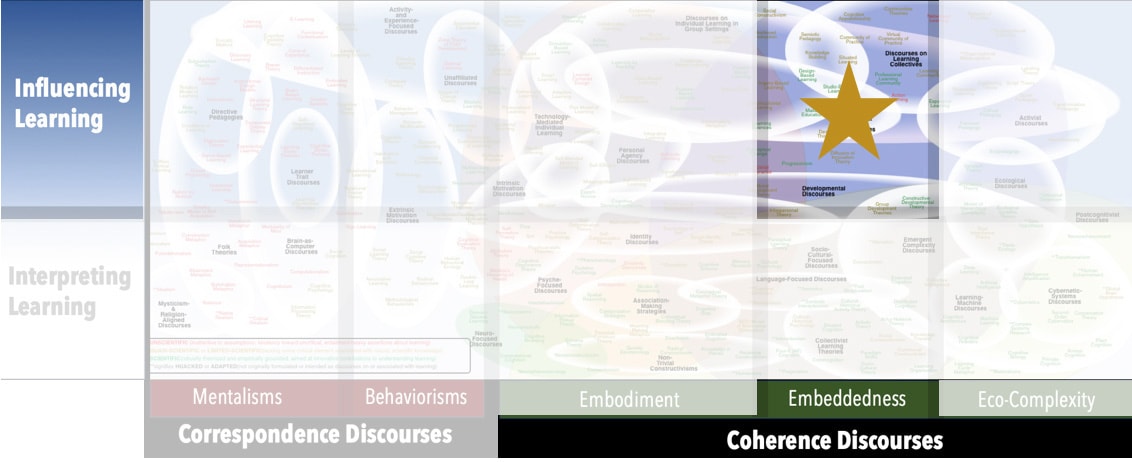 Please cite this article as:
Davis, B., & Francis, K. (2023). "Cognitive Apprenticeship" in Discourses on Learning in Education. https://learningdiscourses.com.
⇦ Back to Map
⇦ Back to List