Focus
Master–apprentice relationship
Principal Metaphors
Knowledge is … mastered skill
Knowing is … level of skill mastery
Learner is … an apprentice (individual)
Learning is … apprenticing
Teaching is … modeling, coaching, scaffolding
Originated
1980s
Synopsis
Cognitive Apprenticeship is focused on the pedagogical processes associated with master–apprentice relationships, with a particular interest in rendering usually tacit practices more explicit. On the master's side, Cognitive Apprenticeship is concerned with strategies used to communicate critical elements of the skill, varieties of supervision, and structures of feedback. On the apprentice's side, it is concerned with types and extents of practice, steps toward mastery, social supports, and strategies for reflection.
Commentary
As with companion theory Situated Learning, Cognitive Apprenticeship is focused on adult learning. The theory is thus most prominent in adult education, and efforts to extend its principles and recommendations to public school settings often feel strained and artificial.
Authors and/or Prominent Influences
Allan Collins; John Seely Brown; Susan E. Newman
Status as a Theory of Learning
Cognitive Apprenticeship is not a theory of learning, as it does not engage with the complex dynamics of learning and cognition.
Status as a Theory of Teaching
Cognitive Apprenticeship is a theory of teaching.
Status as a Scientific Theory
It would be a stretch to describe Cognitive Apprenticeship as scientific. Although it does draw on scientific theories of learning, and while it does have some research support, it is falls more in the category of advice based on those theories than a discourse supported by robust empirical evidence.
Map Location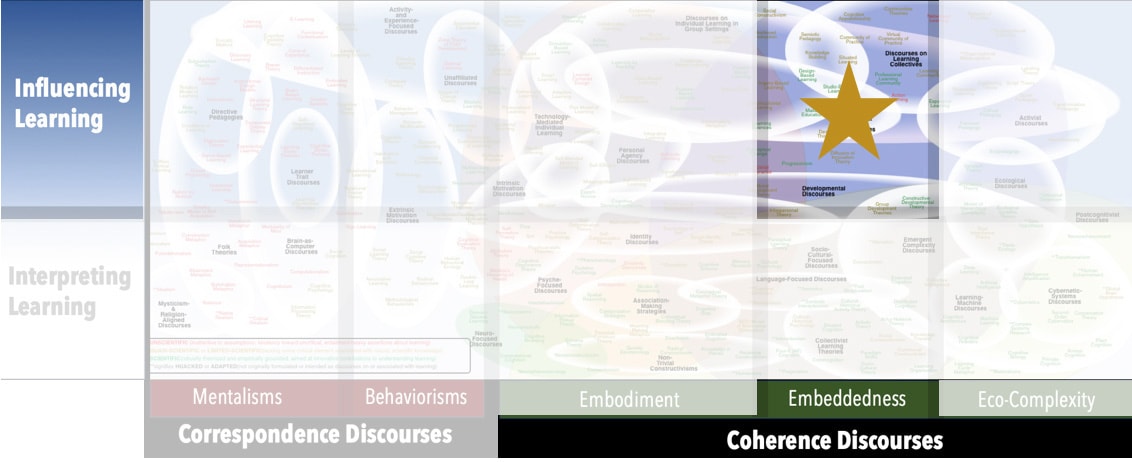 Please cite this article as:
Davis, B., & Francis, K. (2020). "Cognitive Apprenticeship" in Discourses on Learning in Education. https://learningdiscourses.com.
⇦ Back to Map
⇦ Back to List