AKA
21st Century Learning
21st Century Skills
Deep Learning
Focus
Reframing schooling to fit with contemporary circumstances
Principal Metaphors
Knowledge is … achievement, accomplishment
Knowing is … application (of appropriate knowledge)
Learner is … a citizen-in-the-making (individual)
Learning is … progressing, gaining
Teaching is … instructing
Originated
2000s
Synopsis
Deeper Learning is a blend of prominent contemporary educational discourses. It is aimed at transforming schooling in ways that fit with contemporary personal, social, cultural, and economic circumstances. There are many variations of Deeper Learning, but they tend to cluster around similar goals (e.g., robust academic outcomes, higher-level thinking skills, positive attitudes, technological proficiency, strong social skills) and instructional emphases (e.g., focus on real-world issues and problems that are relevant to learners; learner choice within tasks; access to appropriate tools and resources; flexible and frequent formative assessments, from teacher, other students, and self; numerous and varied opportunities for collaboration).
Commentary
Deeper Learning can be read as an uncritical mash-up of prominent contemporary discourses on teaching. Even though proponents commonly assert that it is rooted in and/or aligned with Progressivism, descriptions are typically reliant on the Acquisition Metaphor, the Attainment Metaphor, and Instructivism. In addition, while the explicit emphasis is almost always on nurturing the individual, its less-prominent rationale statements are usually framed in terms of societal and economic need. Stated more concisely, Deeper Learning tends to be presented and perceived as belonging among Coherence Discourses, with a focus on the individual, but the assumptions and aims laid out in its rationale statement are more consistent with society-privileging Correspondence Discourses.
Authors and/or Prominent Influences
Partnership for 21st Century Learning (P21; formerly Partnership for 21st Century Skills)
Status as a Theory of Learning
Deeper Learning does not invoke, let alone seek to contribute to, recent insights into the complex dynamics of human learning.
Status as a Theory of Teaching
Deeper Learning can be properly viewed as a set of prescriptions for the means and outcomes of formal education. While it would be a stretch to call Deeper Learning a discourse on teaching, it is correct to assert it is intended to influence what goes on in schools.
Status as a Scientific Theory
Deeper Learning is a political discourse, not a scientific one. While there are frequent references to, for example, best practices, evidence-based practice, and demonstrable results, the fact of the matter is that its defining principles and recommendations are not drawn from scientific sources. Rather, they represent little more than the current "common sense" of schooling, as is most clearly evidenced in the dominance of images and metaphors of Folk Theories that are invoked by its proponents.
Map Location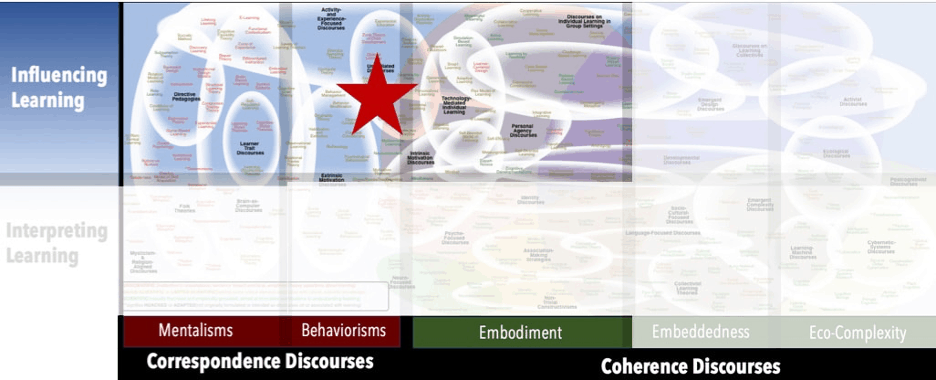 Please cite this article as:
Davis, B., & Francis, K. (2020). "Deeper Learning" in Discourses on Learning in Education. https://learningdiscourses.com.
⇦ Back to Map
⇦ Back to List