Focus
Teaching advice focused on multimedia learning
Principal Metaphors
Knowledge is … information
Knowing is … using information
Learner is … an information processor (individual)
Learning is … inputting (and associated computer-based notions, such as processing, storing, and retrieving)
Teaching is … transmission (of information)
Originated
1990s
Synopsis
E-Learning is focused on multimedia learning using digital technologies. E-Learning can be applied to a range of efforts to derive instructional design principles from Cognitive Science research. It is most often associated with Cognitive Load Theory, which is anchored to research into the limitations of working memory, and consequently advice is focused on minimizing distractions and focusing on learner-specific preferences and capacities.
Commentary
While there are a few critical voices associated with E-Learning, most discussions of the topic are uncritically rooted in Cognitivism and linked to the aims and structures of traditional schooling. Consequently, these discussions tend to carry forward a range of uninterrogated and problematic assumptions about what learning is and how it happens. Arguably, the most common advice (e.g., on pacing instruction and attending to learner preference) is little more than familiar practice that has been dressed up as academic insight.
Authors and/or Prominent Influences
Richard E. Mayer; John Sweller; Roxana Moreno
Status as a Theory of Learning
E-Learning is not a theory of learning.
Status as a Theory of Teaching
E-Learning is a perspective on teaching.
Status as a Scientific Theory
Some evidence has been gathered to demonstrated that adhering to E-Learning principles (e.g., pacing the teaching to suit the learner and managing the amount of information presented all at once) will positively influence learning. But that should be a surprise to no-one. E-Learning thus fails to meet any of our criteria for a scientific theory.
Map Location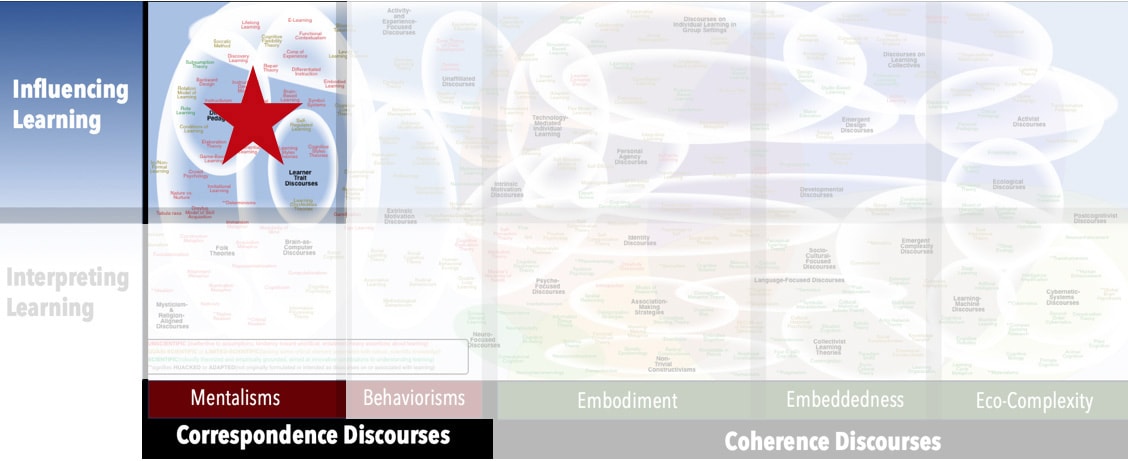 Please cite this article as:
Davis, B., & Francis, K. (2020). "E-Learning" in Discourses on Learning in Education. https://learningdiscourses.com.
⇦ Back to Map
⇦ Back to List