Focus
Qualitative differences between the abilities of experts and novices
Principal Metaphors
Knowledge is … expert-level skill and interpretation
Knowing is … ability, expertise
Learner is … a novice (individual)
Learning is … improving, extending
Teaching is … modeling, coaching
Originated
1980s
Synopsis
The Expert–Novice literature develops the realization that the main difference between expert and novice performance is principally a matter of knowing differently rather than knowing more. Through prolonged experience, extensive practice, and intensive focus, the expert's understandings are intricately networked and mainly tacit. Perceptions tend to be holistic, contributing to interpretations of complex situations in terms of coherent chunks. Performances typically appear fluid, automatic, and intuitive. The opposite can be said of the novice, whose understandings are likely fragmented. Complex situations may be perceived as chaotic and structureless, and performances can appear awkward and frustrating. Most commentators attribute these differences to the fact that the expert's abilities are memory-based, and so readily enacted, whereas the novice's are thought-based, as thus cognitively demanding and taxing the limits of consciousness.
Commentary
Criticisms of the Expert–Novice literature are relatively rare and muted. Few concerns are raised about the general constructs, but worries are sometimes voiced about extreme or overly rigid characterizations of differences. These is some debate over whether the transition from novice to expert is a continuum or whether it happens in distinct "quantum leap" stages/phrases. Unsurprisingly, several stage-based models have been proposed.
Authors and/or Prominent Influences
Anders Ericsson
Status as a Theory of Learning
The Expert–Novice literature could be interpreted as advancing a distinct theory of learning, one that casts learning not as an accumulation of information but as elaborating or extending current possibility.
Status as a Theory of Teaching
The Expert–Novice literature includes important insights into the sorts of practice that contribute most effectively to the development of expertise. For example, to move from "good" to "exceptional," practice must be effortful (i.e., happening at the edge of current competence, where there's a genuine risk of failure) and deliberate (aimed at focused awareness on fine-grained aspects rather than automaticity). While it is up to the individual to engage in this practice, most of the research points to the necessity of a teacher to help structure activities and to provide immediate and incisive feedback. In sum, then, while Expert–Novice is not a theory of teaching, it offers important practical advice to educators.
Status as a Scientific Theory
The Expert–Novice literature is attentive to its metaphors and constructs around learning and teaching. It is supported by a substantial body of research that reaches across many domains of human activity. It is, in brief, a scientific theory.
Map Location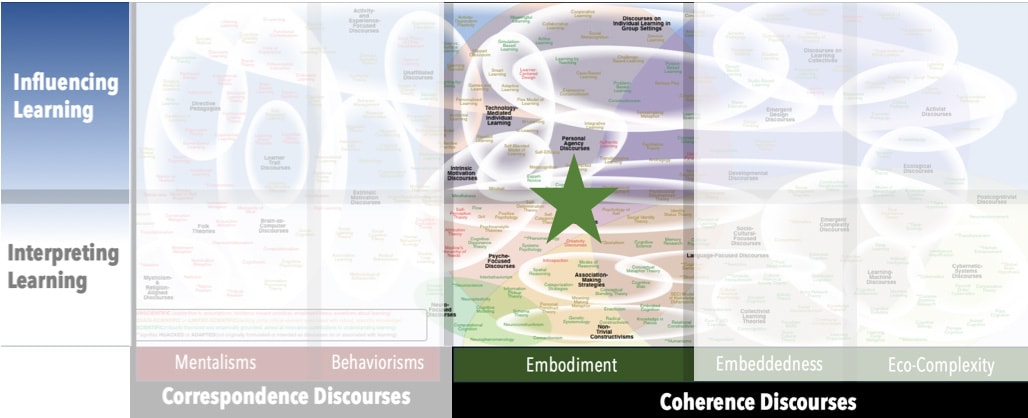 Please cite this article as:
Davis, B., & Francis, K. (2020). "Expert–Novice" in Discourses on Learning in Education. https://learningdiscourses.com.
⇦ Back to Map
⇦ Back to List