Focus
Social, political, and cultural conditions that contribute to power imbalances
Principal Metaphors
Knowledge is … scope of interpretations and actions
Knowing is … critical consciousness
Learner is … a change agent (individual and/or collective)
Learning is … interrogating (the conditions of one's existence) and participating (in efforts to enact meaningful change)
Teaching is … learning alongside (i.e., interrogating and co-participating)
Originated
1980s
Synopsis
Feminist Pedagogy is a Critical Pedagogy that shares its activist goals around raising consciousness and decentering power, but that generally places more emphasis on interrogating the notion of "essential identity," analyzing gender norms, respecting difference, fostering teacher–student relationships, formatting content in personally meaningful ways, and seeking resonances across individual and mutual goals. Feminist Pedagogy is aligned with other forms of Critical Pedagogy, including those focused on race, class, ethnicity, post-colonialism, and sexuality.
Commentary
Criticisms of Feminist Pedagogy are typically similar to those of Critical Pedagogy. In fact, with regard to similarities, perhaps the most commonly voiced concern is that Feminist Pedagogy is not especially distinct from other forms of Critical Pedagogy.
Authors and/or Prominent Influences
Patti Lather; Madeleine Grumet; bell hooks
Status as a Theory of Learning
Feminist Pedagogy is not a theory of learning, as it does not address the complex dynamics of learning.
Status as a Theory of Teaching
Feminist Pedagogy is a theory of teaching that is oriented toward recognizing and taking constructive action against unhealthy power dynamics and other injustices. Teachers are encouraged to learn alongside their students, collectively engaged in critical discussions of entrenched habits of thinking and possible strategies of action.
Status as a Scientific Theory
Feminist Pedagogy does not meet the requirements of a scientific theory. However, it is informed by well-known and empirically grounded Embodiment Discourses and Embeddedness Discourses – including, most prominently, Socio-Cultural Theory.
Map Location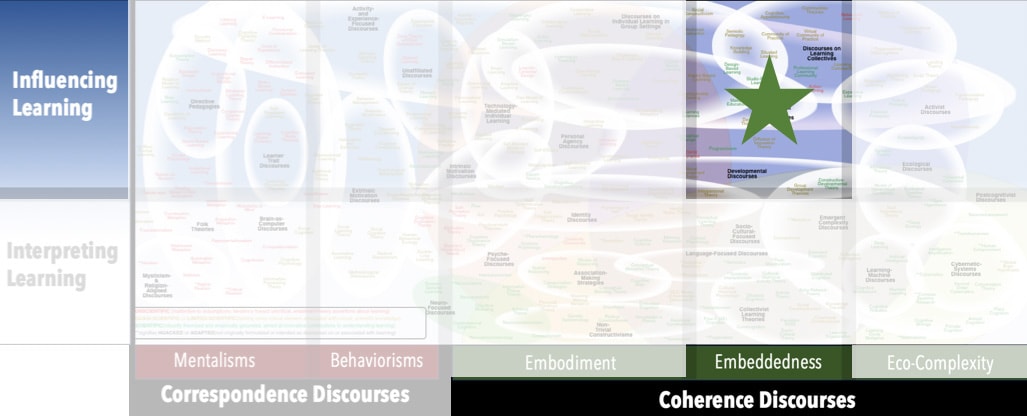 Please cite this article as:
Davis, B., & Francis, K. (2020). "Feminist Pedagogy" in Discourses on Learning in Education. https://learningdiscourses.com.
⇦ Back to Map
⇦ Back to List