AKA
Inquiry Learning
Inquiry Method

Focus
Co-dependent, goal-oriented action among learners
Principal Metaphors
Knowledge is … scope of established actions and interpretations
Knowing is … doing
Learner is … an investigating collective
Learning is … developing understanding while through application and exploration
Teaching is … facilitating, guiding
Originated
1960s
Synopsis
Proposed nearly a century ago, Inquiry-Based Learning was designed to interrupt assumptions of context-free knowledge, passive learning, and smooth paths to understanding. Inquiry-Based Learning focuses on pursuing authentic interests, posing researchable questions, and participating in knowledge production. Various types of Inquiry-Based Learning have been described, including:
Structured Inquiry – teacher leads in entire class in a shared inquiry
Controlled Inquiry – teacher selects topics and resources to be engaged by students
Guided Inquiry – teacher chooses topic and students design their engagement
Free Inquiry (Open Inquiry) – student choose topics without reference to prescribed outcomes
In recent decades, many variations on Inquiry-Based Learning have emerged, including Case-Based Learning, Challenge-Based Learning, Design-Based Learning, Phenomenon-Based Learning, Problem-Based Learning, Project-Based Learning, Studio-Based Learning, and:
Context-Based Learning (Salters' Approach) (Salters' Company, 1990s) – aimed at promoting deep engagement with the content, and at developing both practical and theoretical knowledge, Context-Based Learning focuses on examples (actual and fictitious) and emulates real working environments by incorporating social, cultural, and political elements
Commentary
Inquiry-Based Learning was originally intended as a pedagogical format, but it has become more of an umbrella notion that stretches over a wide array of methods that align with its emphases on learner involvement in authentic, situated study. On the up-side, the array of contemporary interpretations suggests broad embrace and varied uptake. On the down-side, included in the diversity are approaches – such as Discovery Learning – that lack nuanced appreciations of the Coherence Discourses that originally informed Inquiry-Based Learning. In many contexts, these trivialized interpretations have poisoned the waters for educators seeking to implement Inquiry-Based Learning.
Authors and/or Prominent Influences
John Dewey
Status as a Theory of Learning
Inquiry-Based Learning is not a theory of learning.
Status as a Theory of Teaching
Inquiry-Based Learning is a theory of teaching.
Status as a Scientific Theory
Inquiry-Based Learning is founded on scientific theories of learning. Its own evidence base is not especially robust, however – almost certainly because of an unfortunate and inconsistent diversity of interpretations and similar variation in implementation.
Subdiscourses:
Context-Based Learning (Salters' Approach)
Controlled Inquiry
Free Inquiry (Open Inquiry)
Guided Inquiry
Structured Inquiry
Map Location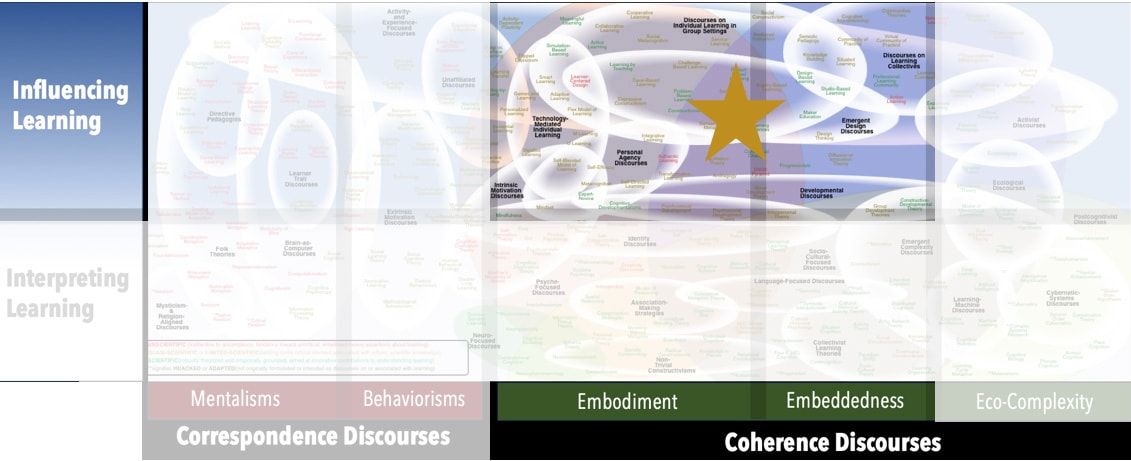 Please cite this article as:
Davis, B., & Francis, K. (2020). "Inquiry-Based Learning" in Discourses on Learning in Education. https://learningdiscourses.com.
⇦ Back to Map
⇦ Back to List