Focus
Development of personality develops within social contexts
Principal Metaphors
Knowledge is … the range of developmental possibility
Knowing is … competent functioning, preferably with limited anxieties
Learner is … a social agent
Learning is … deriving meaning from experience
N/A
Originated
1950s
Synopsis
Interpersonal Theory describes seven developmental stages between infancy and late adolescence, each defined according to significant others (e.g., mother; friends; lover), interpersonal dynamics (e.g., playing together; trusting; being intimate), and key relationship-based learnings (e.g., distinguishing good from bad; cooperating; showing affection). As with other Developmental Discourses, especially those tied to Psychoanalytic Theories, failure to meet critical challenges at any stage can result in anxieties that can hamper (sometimes prevent) learning from one's experiences.
Commentary
Perhaps the most common criticisms of Interpersonal Theory arise from its origins in and associations with Psychoanalytic Theories. Concisely, Interpersonal Theory is typically seen to have similar shortcomings. As well, and as with most other Developmental Discourses, Interpersonal Theory is frequently criticized for being normative – that is, for failing to account for broad variations among individuals and across cultures.
Authors and/or Prominent Influences
Harry Stack Sullivan
Status as a Theory of Learning
Interpersonal Theory is a theory of learning.
Status as a Theory of Teaching
Interpersonal Theory is a not theory of teaching, but it has been used to as a source of insight and advice on age- and stage-appropriate knowledge and activity in formal educational settings.
Status as a Scientific Theory
Interpersonal Theory meets some of the requirements of a scientific theory. Its focus is explicit, its images and metaphors are carefully selected and deployed, and it does have a limited evidence base. That said, many argue its evidence base is inadequate to its claims. In this regard, Interpersonal Theory is subject to the same criticisms as other Psychoanalytic Theories and Developmental Discourses.
Map Location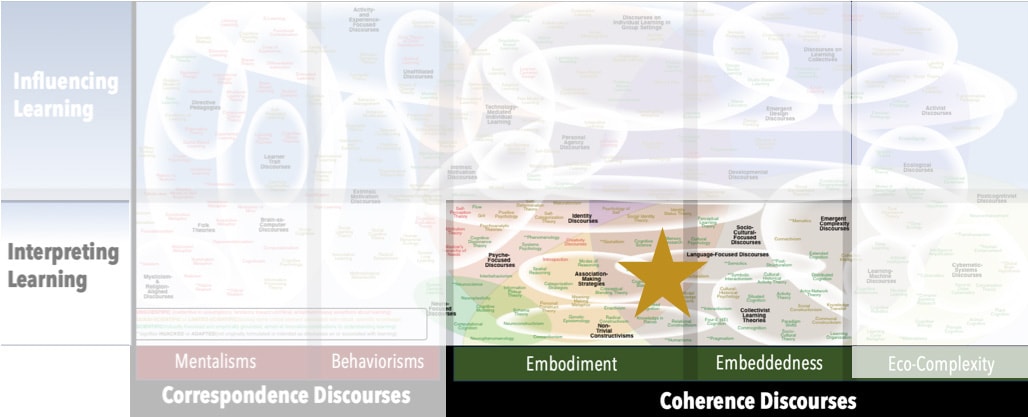 Please cite this article as:
Davis, B., & Francis, K. (2019). "Interpersonal Theory" in Discourses on Learning in Education. https://learningdiscourses.com.
⇦ Back to Map
⇦ Back to List