Focus
Artefact-oriented action
Principal Metaphors
Knowledge is … ever-shifting scope of possibility
Knowing is … making
Learner is … an improviser (individual in action)
Learning is … developing understanding through making
Teaching is … supervising, facilitating, guiding
Originated
2000s
Synopsis
Maker Education is a collaborative, hands-on, problem- or project-based approach that emphasizes prototyping and repurposing objects to create new innovations. Viewing failure as a productive site of learning, Maker Education focuses on developing insights into how things work and thus eschews prefabricated kits and models. In schools, Maker Education is learner driven and emphasizes interdisciplinarity, iteration (cycles of building and revising), and peer-to-peer teaching. Maker Education is associated with STEM learning and the maker movement. A subdiscourse is:
Pedagogy of Production (S. de Castell, 2010s) – a version of Maker Education that focuses on the usability and social worth of the fabricated artefacts. The premise is that if the artefacts have usability and value to the learners, then the learners will be more vested in the learning process of the artefact's creation.
Commentary
A common concern voiced about Maker Education is that its learner-driven focus may contribute to an anything-goes attitude that lacks the rigor of a discipline-based inquiry. Maker Education and the broader maker movement arose in community predominantly comprising white males with higher socio-economic status. The movement tends to privilege the making of marketable objects rather work that is done for others (e.g., care-giving).
Authors and/or Prominent Influences
Dale Dougherty
Status as a Theory of Learning
Maker Education is not a theory of learning because it does not offer new or develop established insights into the complex dynamics of learning.
Status as a Theory of Teaching
Maker Education is a theory of teaching. It offers suggestions/strategies for classroom practice around implementing maker projects with learner-centered, collaborative approaches.
Status as a Scientific Theory
While a topic of broad discussion, a substantial research base has yet to be generated around Maker Education.
Subdiscourses:
Map Location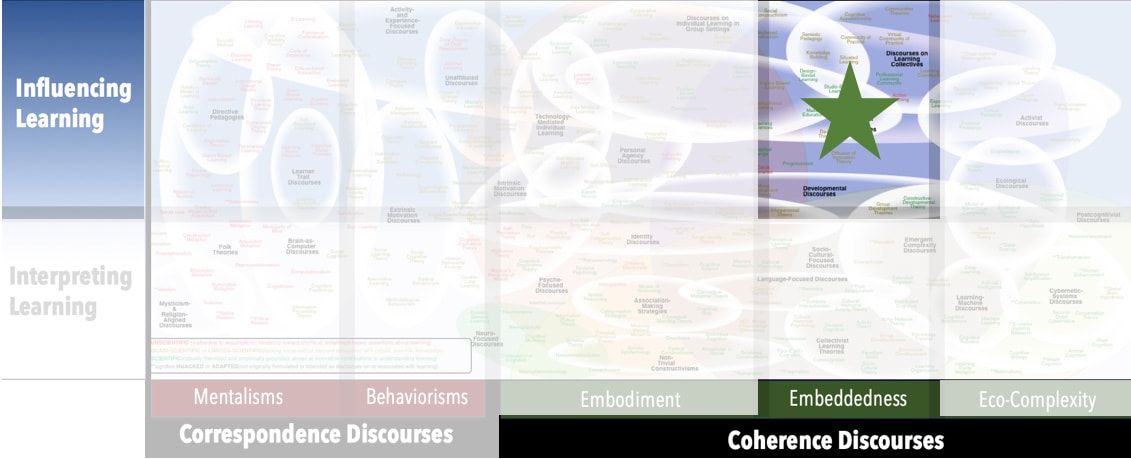 Please cite this article as:
Davis, B., & Francis, K. (2020). "Maker Education" in Discourses on Learning in Education. https://learningdiscourses.com.
⇦ Back to Map
⇦ Back to List