Focus
Connections with others and content
Principal Metaphors
While Networked Learning is explicitly aligned with Situated Learning and related theories, few of its proponents demonstrate deep appreciation of the any specific learning theory.  Consequently, direct references to learning are most often suggestive of Folk Theories:
Knowledge is … material
Knowing is … mastered material
Learner is … a connector (in a network)
Learning is … connecting to/with
Teaching is … facilitating
Originated
1970s
Synopsis
As its name suggests, Networked Learning is concerned with the learner's connections – with other learners, with information, through learning resources, via open communication. Subdiscourses include:
Collaborative Networked Learning (Charles Finley, 1980s) – a type of Networked Learning that is mediated by electronic means. Many models and emphases have been proposed, but original foci included shared purpose, mutual dependence, and leadership support (e.g., from a coach/facilitator or expert/mentor).
Commentary
Networked Learning is more a catch-all for popular trends than a coherent perspective on learning or education. Proponents typically tap into prominent Embeddedness Discourses, while at the same time demonstrating little interest in engaging deeply with difficult principles and their potentially disruptive implications.
Authors and/or Prominent Influences
Ivan Illich
Status as a Theory of Learning
Networked Learning points to relevant aspects of a learner's world, but it doesn't really go anywhere with them. Thus, it cannot be described as a theory of learning.
Status as a Theory of Teaching
Similar to its treatment of learning, Networked Learning points to but does not engage deeply with elements of the learner's world that might be managed or influenced by a teacher. Thus, it cannot be described as a theory of teaching.
Status as a Scientific Theory
It does not appear that Networked Learning offers any assertions or hypotheses that might be investigated.
Subdiscourses:
Collaborative Networked Learning
Map Location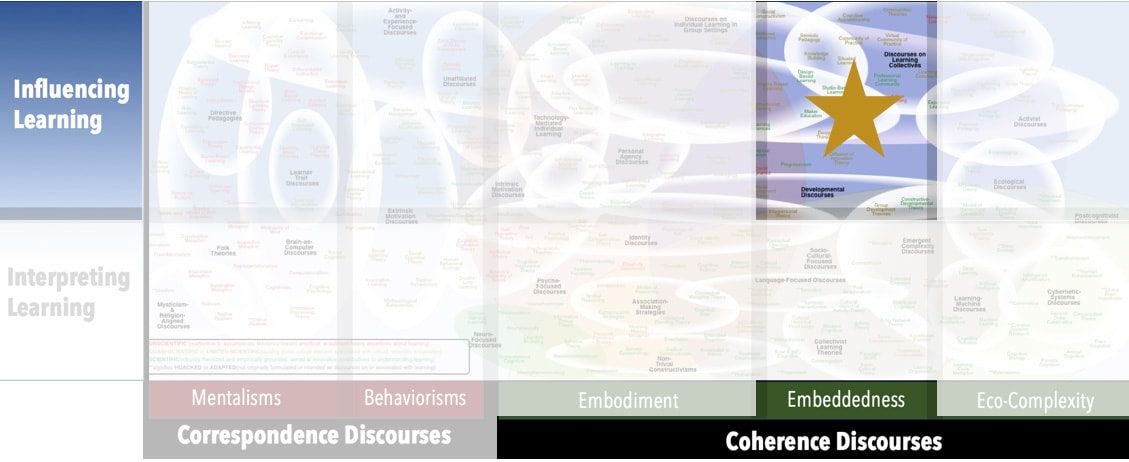 Please cite this article as:
Davis, B., & Francis, K. (2022). "Networked Learning" in Discourses on Learning in Education. https://learningdiscourses.com.
⇦ Back to Map
⇦ Back to List