AKA
Neurodivergence
Neurodivergent
Neurotypical

Focus
Embrace of neurological difference
Principal Metaphors
Knowledge is … scope of possible functioning
Knowing is … adequate functioning
Learner is … humanity
Learning is … adapting; maintaining fitness
Teaching is … engaging diversity in productive ways
Originated
1990s
Synopsis
Neurodiversity is a perspective on individual difference that casts such conditions as autism and learning disabilities not as deficits or disorders, but as variations to the human genome that may be vital in the survival of the species. Neurodiversity is thus both a theory of difference based on evolution and a social justice movement that locates neurological difference alongside gender, ethnicity, sexual orientation, and other broadly recognized diversities. Associated notions include:
Functional Diversity (2000s) – an expression used in place of "disorder," "deficit," "disability," and other individual-focused terms associated with the Medical Model of Disability that have negative connotations
Commentary
While it is difficult to debate any movement that's focused on equality and justice, the Neurodiversity argument is based on the assumption that difference for the sake of difference is good. That is, Neurodiversity has been accused of offering a simple solution to a complex problem. A broad embrace of Neurodiversity could muddy – or even stigmatize – research on medical interventions and assistive technologies intended to improve life. Phrased differently, in at least some instances, uncritical acceptance of neurological diversity can do more harm than good. Associated discourses include:
Neurotribes (Steve Siberman, 2010s) – suggests that people with autism should be more broadly accepted, understood, and fully participate in society.
Authors and/or Prominent Influences
Diffuse
Status as a Theory of Learning
Neurodiversity is a perspective on individual difference, but it doesn't offer (or seek to offer) new insight.
Status as a Theory of Teaching
Within the field of education, the attitudes and sensibilities represented within Neurodiversity are perhaps most closely aligned with Critical Pedagogy. That is, with its explicit activist emphasis on social justice, Neurodiversity is perhaps best identified as a theory of teaching and aligns with anti-oppressive pedagogies.
Status as a Scientific Theory
The underlying argument of Neurodiversity is rooted in Neuroscience and Universal Darwinism, but is at the moment an unproven analogy (linked to the role of genetic diversity for ensuring a viable species) rather than a scientific fact.
Subdiscourses:
Functional Diversity
Neurotribes
Map Location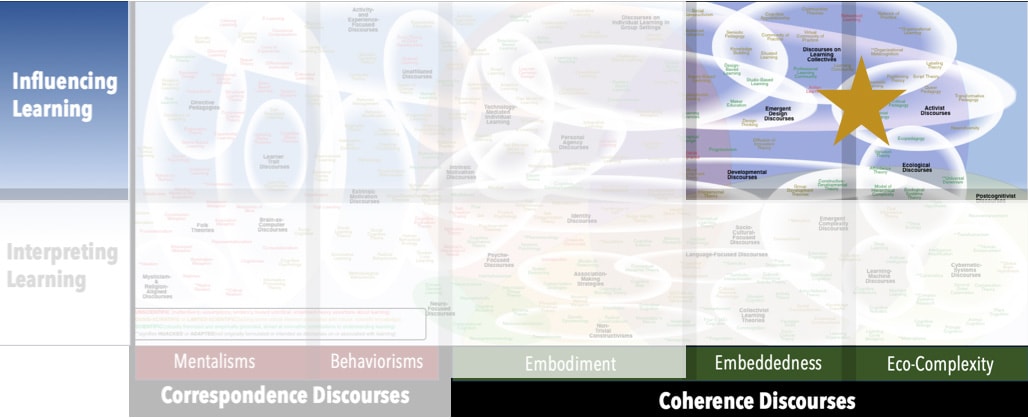 Please cite this article as:
Davis, B., & Francis, K. (2022). "Neurodiversity" in Discourses on Learning in Education. https://learningdiscourses.com.
⇦ Back to Map
⇦ Back to List