Focus
Supports and strategies for involving individual learners in defining their educational experiences
Principal Metaphors
Knowledge is … sum of established interpretations and actions
Knowing is … competence
Learner is … a mindful agent
Learning is … developing competence
Teaching is … facilitating; supporting
Originated
1950s
Synopsis
Personal Agency Discourses address matters related to involving individuals in decisions that define their educational experience. These discourses tend to be grounded in the assumption that the individual learner can and should be trusted to participate in selecting topics, competency levels, learning environments, pacing, and other elements. With regard to teaching strategies and teaching attitudes, the following constructs tend to be strongly associated with discourses in this cluster:
Active Listening (Carl R. Rogers, 1950s) – first developed as technique in Psychotherapy, Active Listening frames listening to others not as a passive process, but as a vibrant interpretive process that involves attending to meanings, nuances, tone, body language, and so on. It has been taken up by many educators, especially those aligned with Authentic Education, as an important attitude for teachers.
Reflective Listening (Carl R. Rogers, 1950s) – a two-step communication strategy that involves, firstly, eliciting information from a speaker and, secondly, paraphrasing that information while seeking confirmation of appropriate interpretation. It is commonly recommended strategy for teachers among advocates of Non-Trivial Constructivisms.
Reflective Teaching – more an attitude in teaching than a mode of teaching, Reflective Teaching entails commitments to nuanced knowledge of each learner, working insights into the dynamics of learning, robust content knowledge, and critical self-awareness (see Reflective Practice)
Revoicing – the act of echoing what another has said, over paraphrased, used for a range of purposes that include adding emphasis, seeking clarification, and inviting elaboration
Other strongly associated discourses include:
Learning to Learn – a popular notion with interpretations that vary from the practical to the critical, all of which cluster around becoming conscious of and exerting control over one's learning
Self-Organized Learning (Thomas Harri-Augstein, 1990s) – a phrase used to collect such principles as personal relevance, individual choice, self-direction, self-monitoring, and critical reflection
Self-Organized Learning Environment (Sugata Mitra, 1990s) – a program and/or an installation intended to support Self-Organized Learning
Commentary
While anchored to the important realization that learning is enhanced when individuals experience agency, Personal Agency Discourses are often more oriented by ideology than demonstrated insights into learning. Indeed, some are articulated in direct response to the controlling, agency-denying structures of traditional and standardized educational sensibilities. Indeed, some Personal Agency Discourses are accused of undervaluing the role of structure and advice as they argue against rigid and alienating aspects of some models of schooling.
Subdiscourses:
Active Listening
Learning to Learn
Reflective Listening
Reflective Teaching
Revoicing
Self-Organized Learning
Self-Organized Learning Environment
Map Location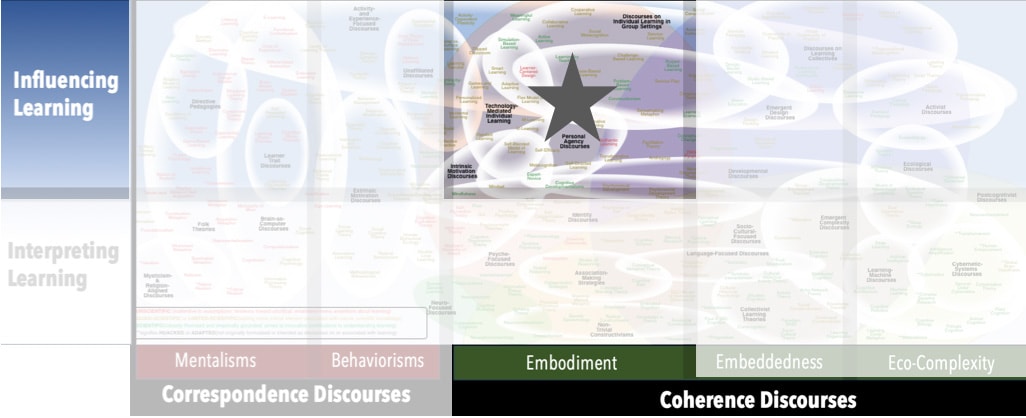 Please cite this article as:
Davis, B., & Francis, K. (2021). "Personal Agency Discourses" in Discourses on Learning in Education. https://learningdiscourses.com.
⇦ Back to Map
⇦ Back to List