Focus
Effective community action in a professional setting
Principal Metaphors
Knowledge is … sum of expertise in the community
Knowing is … effective collective action
Learner is … a member (individual) or a professional project (collective)
Learning is … simultaneous and integrated modification of individual habits and collective process
Teaching is … co-teaching – that is working collaboratively to positively affect one another's habits of acting
Originated
1990s
Synopsis
While conceptions and definitions vary considerably, most often a Professional Learning Community (PLC) is understood as an approach to Collaborative Learning among professional colleagues in specific work environments. Embracing Socio-Cultural Theory and related discourses, PLC is among those methods that regard the collective as a learning system – that is, not just a collection of individual learners or a context to support individual learning, but a collective learner aiming to transform its own culture/character (contrast Learning Community). An effective PLC entails shared commitments to self-critique, collaboration, and reflection around matters of professional purpose.
Commentary
Most criticisms of PLC are focused on trivialized versions or ineffective implementations. Regarding the former, versions of PLC that are attentive to their conceptual roots in Socio-Cultural Theory tend to escape extensive criticism. Regarding the latter, the effectiveness of any practical approach to change – especially one that purports to simultaneously support individual and collective transformation – are limited by the understandings, intentions, and commitments of those involved. In a broader culture of competitive individualism, it's not hard to imagine potholes for an approach focuses on collaboration and collectivity.
Authors and/or Prominent Influences
Peter Senge; Shirley M. Hord
Status as a Theory of Learning
PLC is not a theory of learning.
Status as a Theory of Teaching
While not a theory or model of teaching, it is not a stretch to suggest that PLC is a model of co-teaching – that is, of working together to positively affect one another's habits of acting and interpretation, aiming to improve the ethos and effectiveness of a professional community. To that end, PLC offers extensive advice on identifying shared goals, articulating visions, seeking solutions, working collaboratively, conducting inquiries, sharing accountability, encouraging experimentation, questioning habits, and ensuring critical reflection.
Status as a Scientific Theory
The most prominent versions of PLC are informed by and attentive to Socio-Cultural Theory and related perspectives. While PLC is supported by targeted empirical research, it appears that the bulk of its support is derived from its associated scientific theories of learning.
Map Location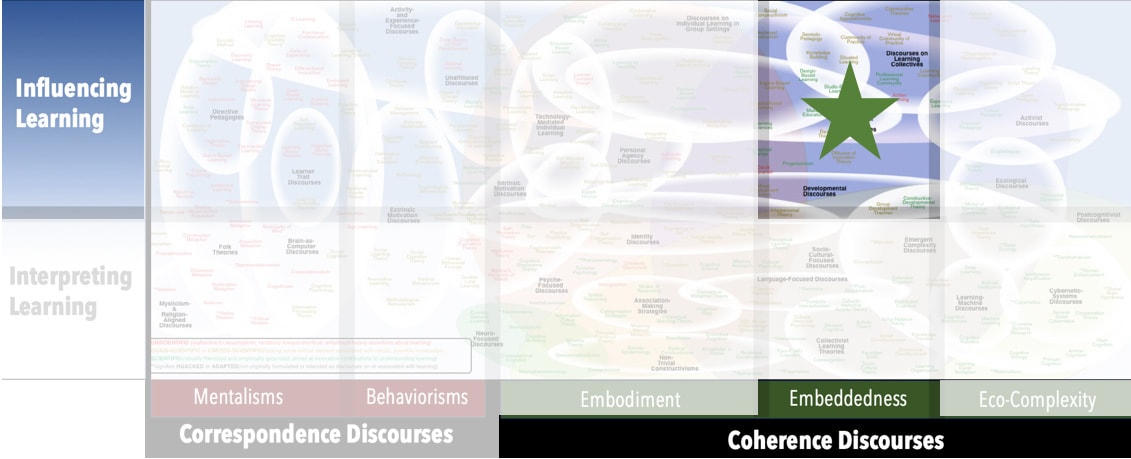 Please cite this article as:
Davis, B., & Francis, K. (2020). "Professional Learning Community" in Discourses on Learning in Education. https://learningdiscourses.com.
⇦ Back to Map
⇦ Back to List