Focus
Gendered and sexualized norms that channel perceptions and perpetuate interpretations
Principal Metaphors
Knowledge is … scope of interpretations and actions
Knowing is … conscientious acting
Learner is … a change agent (individual or collective)
Learning is … interrogating (the conditions of one's existence) and participating (in efforts to enact meaningful change)
Teaching is … learning alongside (i.e., interrogating and co-participating)
Originated
1990s
Synopsis
Queer Pedagogy blends Critical Pedagogy and queer theory, both of which lean heavily on Marxism and Post-Structuralism, with common goals of interrogating pervasive social norms and taxonomies. Queer Pedagogy attends to some of the conditions that enable and constrain learning in the classroom, such as the role of identities, the teacher–student relationship, priorities and refusals evident in curricula, and the politics of bodies enacted (in washroom rules, gym classes, etc.). The theory is positioned as both criticism of and potential support to the work of educators.
Commentary
Included among Activist Discourses, Queer Pedagogy is subject to the same sorts of dismissive criticisms from parties offended and/or threatened by the challenges it presents to entrenched social norms and power structures. In addition, Queer Pedagogy is frequently criticized as obfuscating – as it, for example, signals a focus on gender identities in its name while asserting that "queer" is not specific to a sexual role or gender status.
Authors and/or Prominent Influences
Deborah Britzman; William Pinar
Status as a Theory of Learning
Queer Pedagogy is not a theory of learning, as it does not address the complex dynamics of learning.
Status as a Theory of Teaching
Queer Pedagogy is a theory of teaching that is oriented toward recognizing and taking constructive action against unhealthy power dynamics and other injustices.
Status as a Scientific Theory
Queer Pedagogy does not meet our requirements of a scientific theory. However, it is informed by well-known and empirically grounded theories Embodiment Discourses and Embeddedness Discourses, including most prominently Socio-Cultural Theory.
Map Location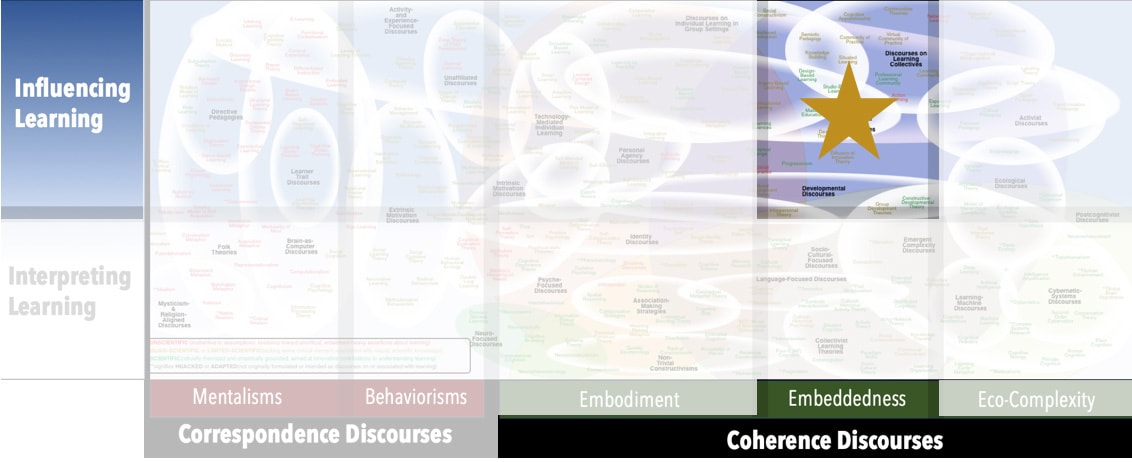 Please cite this article as:
Davis, B., & Francis, K. (2020). "Queer Pedagogy" in Discourses on Learning in Education. https://learningdiscourses.com.
⇦ Back to Map
⇦ Back to List