Focus
Individuals developing more expert skills
Principal Metaphors
Knowledge is … domain of expertise
Knowing is … social co-participation
Learner is … a newcomer
Learning is … apprenticing
Teaching is … mentoring
Originated
1910s
Synopsis
Studio-Based Learning is based on a type of professional education that it typical in schools of architecture. Under the supervision of a master-designer, students work like apprentices in a common space as they take on a design project. They are able to interact and collaborate as needed. The master-designer provides periodic critiques, and peers gradually take on that responsibility as their skills and knowledge develop. Final products are publicly presented.
Commentary
Studio-Based Learning makes the most sense in professional and other adult contexts. The model is thus most prominent in adult education, and efforts to extend its principles and recommendations to public school settings often feel strained and artificial. K–12 education can mimic some of the structures and emphases, but the motivations and intentions of learners in public schools are rarely a strong match.
Authors and/or Prominent Influences
John Dewey
Status as a Theory of Learning
Studio-Based Learning is not a theory of learning.
Status as a Theory of Teaching
Studio-Based Learning is principally a perspective on influencing learning, and so it is appropriately characterized as a theory of teaching.
Status as a Scientific Theory
Owing in large part to the theoretical grounding provided by John Dewey, coupled to a modest-but-compelling body of empirical evidence, Studio-Based Learning can be classified as a scientific theory.
Map Location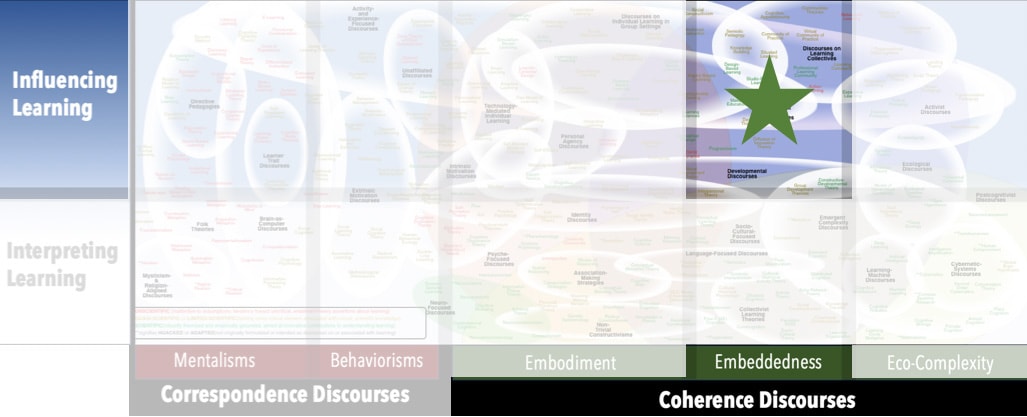 Please cite this article as:
Davis, B., & Francis, K. (2019). "Studio-Based Learning" in Discourses on Learning in Education. https://learningdiscourses.com.
⇦ Back to Map
⇦ Back to List