AKA
Transformative Education
Focus
Participating to effect social and ecological justice
Principal Metaphors
Knowledge is … scope of interpretations and actions
Knowing is … critical consciousness
Learner is … a change agent (individual or collective)
Learning is … interrogating (the conditions of one's existence) and participating (in efforts to enact meaningful change)
Teaching is … learning alongside (i.e., interrogating and co-participating)
Originated
2000s
Synopsis
Transformative Pedagogy encompasses multiple educational emphases, with three particularly prominent clusters. One is, essentially, Critical Pedagogy – aligned with Socio-Cultural Theory and focused on collective action aimed at social justice. Another component is Transformative Learning, which is informed by Non-Trivial Constructivisms and more focused on affecting self perception, personal beliefs, and one's habits of acting. (Note that Transformative Pedagogy is distinct from, but sometimes conflated with Transformative Learning.) A third has a broader horizon. Informed by Eco-Complexity Discourses, it is also concerned with justice, but extends that concern to include matters of environmental sustainability and ecological health.
Commentary
Because source discourses are diverse and their aims are varied, different clusters of Transformative Pedagogy are subject to different commentaries – most of which can be extrapolated from the delimitations, limitations, and critiques of the theories of learning that are invoked within a cluster.
Authors and/or Prominent Influences
Diffuse, owing in large part to the wide range of theoretical influences.
Status as a Theory of Learning
Transformative Pedagogy is not a theory of learning, as it does not address the complex dynamics of learning.
Status as a Theory of Teaching
Transformative Pedagogy is a theory of teaching that is oriented toward recognizing and taking constructive action in situations that call for social and/or ecological justice.
Status as a Scientific Theory
Transformative Pedagogy does not meet our requirements of a scientific theory. However, it is informed by well-known and empirically grounded theories Embodiment Discourses, Embeddedness Discourses, and Eco-Complexity Discourses.
Map Location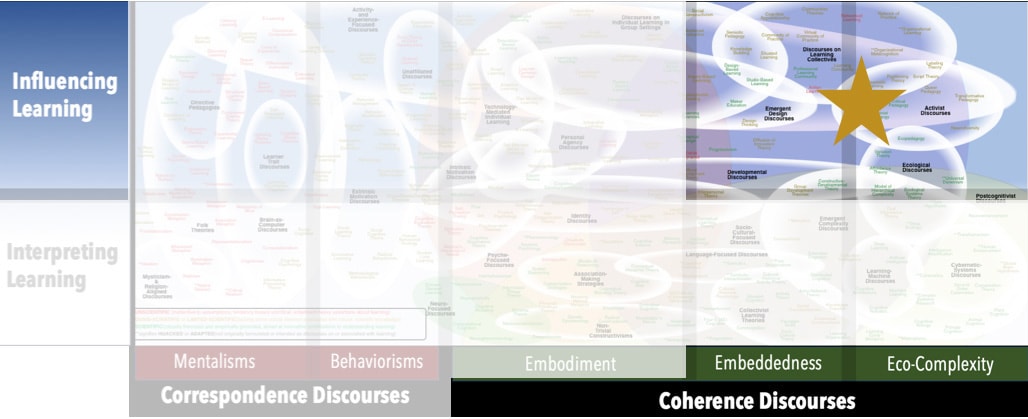 Please cite this article as:
Davis, B., & Francis, K. (2020). "Transformative Pedagogy" in Discourses on Learning in Education. https://learningdiscourses.com.
⇦ Back to Map
⇦ Back to List