Focus
Explaining why learners do what they do in terms of the action rather than a reward
Principal Metaphors
Knowledge is … range of possible activity
Knowing is … appropriate action
Learner is … a malleable being
Learning is … changing
Teaching is … supporting change
Originated
Unspecifiable
Synopsis
Some discourses on influencing learning seem to be applicable to virtually every other discourse – that is, they present constructs and recommend actions that can be aligned with a broad diversity of perspectives. A critical element of such discourses seems to be a resistance (or perhaps failure) to offer an explicit and/or consistent interpretation of learning, apart from the near-universal belief that learning entails change. For example ...
Aha! Moment (Aha Experience; Aha Reaction; Eureka Effect; Eureka Moment) – an emotionally charged moment in which one suddenly recognizes a significant improvement in understanding. Associated constructs include:

Eureka Task – a problem designed to afford insight into the Aha! Moment
Inspiration – in Cognitive Psychology, an Aha! Moment
Sudden Insight – an abrupt, often unexpected realization of the truth and/or complexity of a situation

Cognitive Learning (Knowledge Change) (R.E. Mayer, 2000s) – a change in personal knowledge that is due to experience
Content Literacy – competencies in decoding and interpreting texts, typically associated with abilities to anticipate meaning before reading, paraphrase while reading, and summarize after reading. Content Literacy is discipline independent, and it is generally regarded as necessary to but insufficient for Disciplinary Literacy.
Disciplinary Literacy ­– facility with the specialized vocabulary, distinct ways of thinking, and unique modes of expression that are particular to a discipline
Individual Learning – a phrase encountered in multiple fields to refer to a change in a learner's behavior and/or understanding, and typically defined operationally in terms of a demonstrable contrast in behavior and/or understanding across two defined moments in time.
Knowledge Organization (Information Organization) – an academic domain concerned with strategies and tools used to access, distribute, and maintain established knowledge. A wide range of theoretical perspectives on knowledge, information, learning, and teaching are represented in the domain.
Multiliteracies (New London Group, 1990s) ­– a term coined to embrace two emergent elements of education: Multimodality (see below) and linguistic diversity
Multimodality (Multiple Literacies) – the simultaneous use of multiple modes of communication and/or representation (e.g., textual, aural, iconic, gestural), generally intended to support richer communications and more robust understandings. Subdiscourses include:

Melodic Learning (Susan Homan, 2000s) – a type of Multimodality in which music is foregrounded in a blend of imagery, movement, and melody. Similar ideas are prominent in other educational theories (see, e.g., Eurythmy, under Alternative Education). As well, the strategy is embraced by both Correspondence Discourses (see, e.g., Learning Styles Theories) and Coherence Discourses (see, e.g., Embodied Cognition), but in theoretically incompatible ways.
Commentary
The fact that a particular discourse can be aligned with multiple, conflicting other discourses should not, in itself, be seen as a flaw. Arguably, in fact, such discourses may be tapping into elements of deep and broad consensus, even if they may not be offering new or compelling insights.
Subdiscourses:
Aha! Moment (Aha Experience; Aha Reaction; Eureka Effect; Eureka Moment)
Cognitive Learning (Knowledge Change)
Content Literacy
Disciplinary Literacy
Eureka Task
Individual Learning
Inspiration
Knowledge Organization (Information Organization)
Melodic Learning
Multiliteracies
Multimodality (Multiple Literacies)
Sudden Insight
Map Location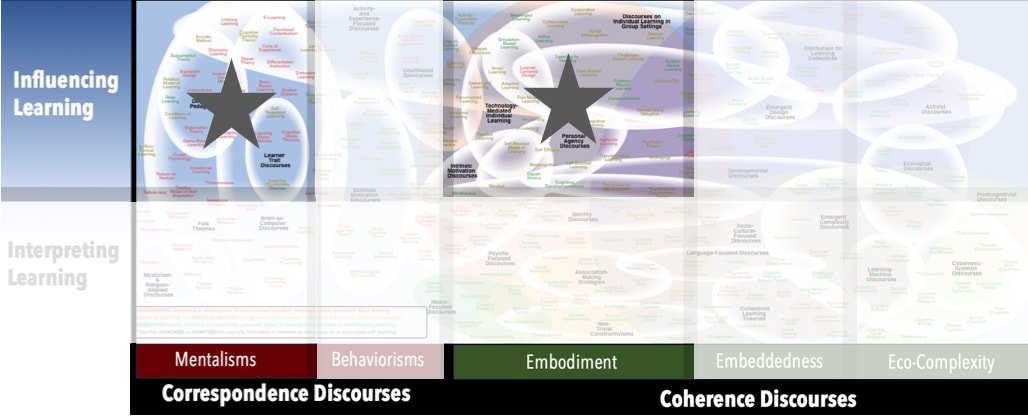 Please cite this article as:
Davis, B., & Francis, K. (2022). "Unaffiliated Discourses" in Discourses on Learning in Education. https://learningdiscourses.com.
⇦ Back to Map
⇦ Back to List