AKA
UDL
Universal Design for Instruction (UDI)
Universal Instructional Design (UID)

Focus
Structuring educational contexts around ability rather than disability
Principal Metaphors
Knowledge is … ability
Knowing is … appropriate action
Learner is … an able agent-in-context (systemic)
Learning is … developing ability
Teaching is … designing
Originated
1990s
Synopsis
Universal Design for Learning is founded on the principle of Universal Design ...
Universal Design (Ronald Mace, 1990s) – the principle (and associated ethical imperative) of creating products and environments that are comfortably usable for people of all ages, physical abilities, and cognitive abilities
... and it is consistent with a sensibility known as Built Pedagogy:
Built Pedagogy (Torin Monahan, 2000s) – the realization that physical educational structures are informed by, reflective of, and created in service of specific educational philosophies. For example, Standardized Education is associated with long hallways of equal-sized rectangular classrooms filled with equal-spaced, standard-sized desks.
Universal Design for Learning blends these principles with a critique of pervasive and entrenched habits for characterizing responding to variability among students. Proponents identify two issues with traditional schooling's attitudes toward learner difference. Firstly, it is asserted that disability has been inappropriately defined in terms of the learner. Secondly, it is asserted that standardized practices compel a focus on disability (and remediation) rather than ability (and growth). As alternatives, Universal Design for Learning argues that disability is a systemic phenomenon which arises in the interaction of agent and context and, consequently, educational contexts must be designed to be flexible in order to emphasize ability – by providing multiple means of engagement, representation, action, and expression. Associated discourses include:
Accessibility Theory (E. Tory Higgins, 1980s) – a diversely interpreted perspective that centers around the necessary considerations to ensure all affected populations have access to the resource or service under consideration. Most often, Accessibility Theory is associate with matters of language-based information (e.g., popular publications, internet resources, formal examinations), but variations of the theory have been applied much more broadly.
Accessible Education (2020s) – an increasing prominent catchphrase that is used to refer to strategies and obligations to adapt educational structures and offerings in ways that are accommodated to the specific needs of individual learners. (Contrast: Special Education in Medical Model of (Dis)Ability, and Diversity Education and Inclusive Education in Activist Discourses.)
Design for the Average – the principle and practice behind the creation of products and environments based on average human dimensions
Design for Adjustable Range – the principle and practice behind the creation of products that can be adjusted to comfortably suit the physical characteristics and/or mental conditions of as many people as possible
Handism – a bias against left-handed people. Although no longer the explicit site of oppression that it was until well into the 20th century, it continues to be manifest pervasively in the designs of tools and constructions that render some tasks difficult, uncomfortable, and sometimes hazardous for left-handed people.
Transgenerational Design (James Pirkl, 1980s) – consistent with Emergent Design Discourses, and highly resonant with Universal Design for Learning, the discourse focuses on products and contexts that can accommodate the widest possible range of consumers, especially across age groups
Commentary
Universal Design for Learning might be identified as a counter-discourse to the very popular Differentiated Instruction. Both are concerned with addressing differences among learners. They separate radically around notions of difference. Aligning with Ecological Discourses and Emergent Complexity Discourses, Universal Design for Learning approaches difference as a systemic phenomenon – thus regarding it as a source of human potential while highlighting that "disability" is not a quality of the agent, but the agent in the situation. (Differentiated Instruction sees learner difference in terms of the qualities of individuals.) However, despite this dramatic contrast in conceptual framing, the advice to educators is surprisingly similar.
Authors and/or Prominent Influences
David Rose; Center for Applied Special Technology (CAST)
Status as a Theory of Learning
Universal Design for Learning in not a theory of learning – although, among contemporary educational discourses – it is unusual in invoking principles of learning that are associated with Eco-Complexity Discourses.
Status as a Theory of Teaching
Universal Design for Learning is a perspective on teaching.
Status as a Scientific Theory
Some modest empirical evidence has been generated in support of the principles of Universal Design for Learning. In terms of our working definition of "scientific," the strength of the discourse lies largely in its critical attentiveness to its own assumptions about learning, learners, ability, and associated constructs.
Subdiscourses:
Accessibility Theory
Accessible Education
Built Pedagogy
Design for Adjustable Range
Design for the Average
Handism
Transgenerational Design
Universal Design
Map Location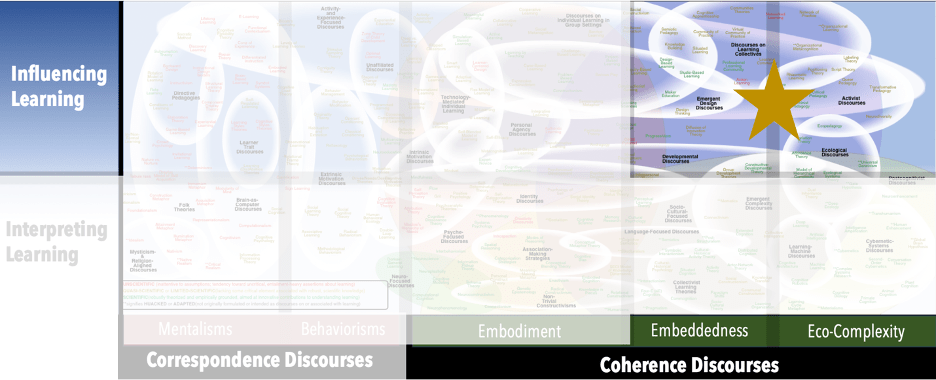 Please cite this article as:
Davis, B., & Francis, K. (2023). "Universal Design for Learning" in Discourses on Learning in Education. https://learningdiscourses.com.
⇦ Back to Map
⇦ Back to List