Focus
Listening to, living in, and engaging in a more than human world
Principal Metaphors
Knowledge is … mindful presence/participation (with/in the more-than-human world)
Knowing is … maintaining dynamic relationships (with/in the more-than-human-world)
Learner is … any living agent or ecosystem (e.g., waterways, plants, insects, animals, geologic form, etc.)
Learning is … building relationships (with the more-than-human world – that is, participating, living, dwelling in place; caring for a place)
Teaching is … providing space (for engaging with/in nature) and orientating attentions (to the multitude of ways to nature communicates her experience and knowledge)
Originated
2010s
Synopsis
Wild Pedagogies focuses on re-negotiating educational practices with/in the environment, which takes time and involves dwelling in place. Its six tenants are:
Nature as co-teacher – acknowledging, working with, caring for the more-than-human world
Complexity and spontaneity – leaving room for surprise and unexpected connections while challenging notions of control and standards
Locating the wild – inviting learners to encounter the wild, even where hard to see
Time and practice ­­– seeking deep experiences outside with sustained organic time
Cultural change ­­– developing values and practices that are equitable and more interactive
Building alliances and the human community – nurturing relationships with the human and more-than-human
Associated discourses include:
Multi-Species' Flourishing (Steven Khan, 2020s) – an ethics of kinship, caring for, and respect for the dignity and life of other-than-human. Multi-Species Flourishing is about exploring and developing relationships communal ways of being that enable the flourishing of all beings.
Wild Mind (Bill Plotkin, 2010s) – a perspective on well-being founded on an assumption of natural wholeness (i.e., rejecting deficit- or disease-based explanations for psychological concerns). Contending that humans are made of the (wild) stuff of nature, Wild Mind is about maturing one's capacities for wholeness.
Commentary
Due to the recentness of this theory, strong critiques and criticisms have yet to emerge. Consistent with Ecological Discourses, Wild Pedagogies confronts and opposes modern Western philosophical orientations towards schooling that, the discourse asserts, are unenvironmental and/or anti-environmental in their attitudes. As might be expected, then, Wild Pedagogies may not mesh well with traditional schooling. Indeed, in the limited research that is available, a prominent theme has been the challenge of meeting required curriculum demands when implementing Wild Pedagogies.
Authors and/or Prominent Influences
Sean Blenkinsop; Bob Jinkling; Robin Kimmerer
Status as a Theory of Learning
Wild Pedagogies is not a theory of learning.
Status as a Theory of Teaching
Wild Pedagogies is a theory of teaching, as its tenants provide guidance for classroom implementation.
Status as a Scientific Theory
In its critical embrace of contemporary sociological and ecological research, Wild Pedagogies satisfies most of our criteria for a scientific discourse. However, Wild Pedagogies is not associated with a robust and substantial body of evidence – partly, we suspect, because it is a relatively new discourse, and partly because its deliberate break with the culture of modern schooling requires different ways of defining and assessing educational effectiveness.
Subdiscourses:
Multi-Species' Flourishing
Wild Mind
Map Location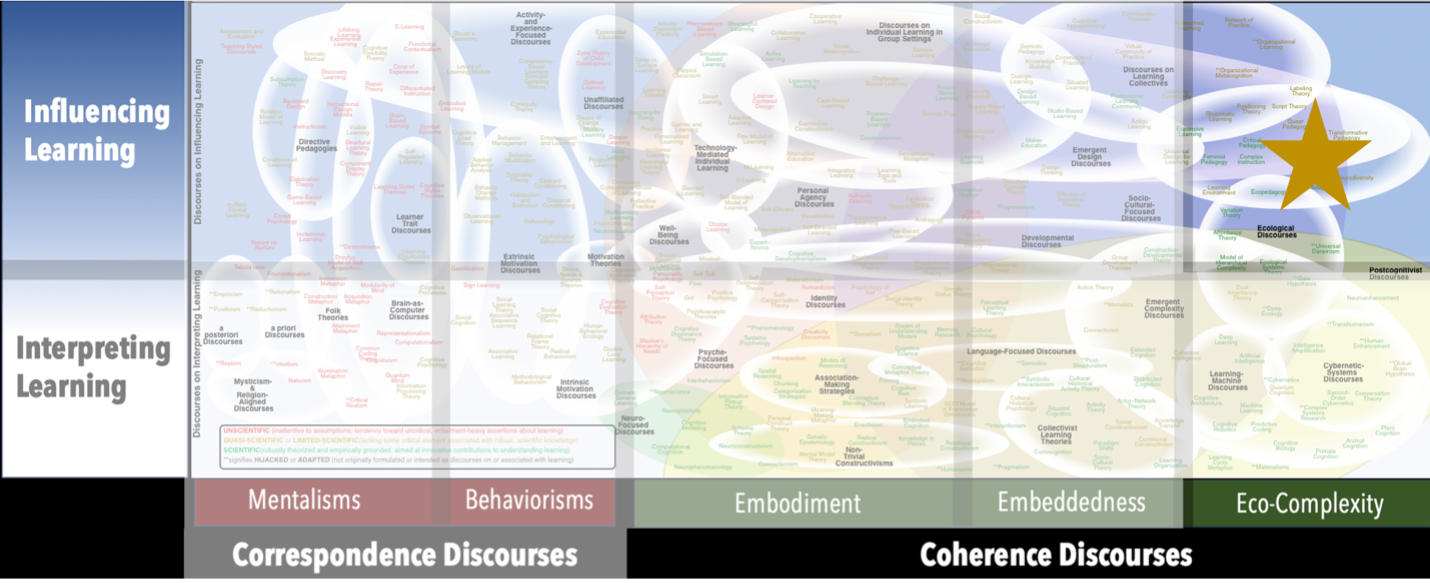 Please cite this article as:
Davis, B., & Francis, K. (2022). "Wild Pedagogies" in Discourses on Learning in Education. https://learningdiscourses.com.
⇦ Back to Map
⇦ Back to List