Focus
Iterative and emergent processes for solving problems or building innovations
Principal Metaphors
Knowledge is … evolving web of possible actions and interpretations
Knowing is … acting and designing (according one's experience)
Learner is … designer(s) (individual or teams)
Learning is … elaborating, innovating (iterative, emergent)
Teaching is … orienting attentions, engaging, occasioning
Originated
1980s
Synopsis
Design Thinking is about the cognitive, strategic, and practical processes associated with designing solutions and/or products. Design Thinking is considered a process for innovation and includes problem seeking and identification, imagining solutions or products, planning, creating, prototyping, testing, and improving. Design Thinking includes solution-based strategies for solving ill-defined problems and crosses different domains from laboratories to natural contexts. Major subdiscourses include the following:
Activity-Centered Design – a version of Human-Centered Design (see above) that is directly informed by Activity Theory, Activity-Centered Design places a strong emphasis on "activities" – that is, on user goal-oriented actions
Aligned Design (various, 2010s) ­– a descriptive term, referring to the extent to which a technology is aligned with the ethics and values of those for whom it is designed
Architectural Psychology (Design and Behavior) – a domain focused on the influence of the human-made environment on people's attitudes and engagements
Cradle-to-Cradle Design (Cradle 2 Cradle; C2C; Regenerative Design; 2CC2) (John Lyle, 1970s) ­– an approach to the design oriented by the principle that the processes and materials used to generate a product are unavoidably part of the planet's ecosystem, and so they should be understood and engaged as aspects of a healthy, integrated social and ecological systems that are sustained across generations
Ecodesign (Ecological Design) (John Button, 1990s) – originally, a suggestion to incorporate environmental elements into the design process; currently, a design-process model that is critically attentive to the ecological impacts of a product, during its production and across the duration of its existence
Empathic Design – As its name suggests, Empathic Design attends to the possible and likely ranges of emotional responses associated with using a product. Empathic Design is associated with a range to strategies that directly assess emotional response (i.e., that do not rely on self-reports or subjective observations.)
Human-Centered Design – Focused specifically on interactive systems, Human-Centered Design aims at improving both usefulness and usability of those systems by adapting or improving the technologies used to mediate those systems to better suit the needs and inclinations of the humans in the system. Associated discourses include:

Human-Centered Computing – a variation of Human-Centered Design that is focused on easing gaps between humans and digital technologies (See also Cognitive Modeling and Transhumanism.)
Human-Centered Systems Thinking – a variation of Human-Centered Design that places a strong emphasis on structures and processes that are rooted in deep understandings of complexity and complex systems (See Complex Systems Research.)

Meta-Design – Foregrounding alignment with Emergent Complexity Discourses and Ecological Discourses, Meta-Design aims to incorporate considerations of the social, cultural, economic, and technical (and, often, more-than human) aspects/implications of designs and products.
Participatory Design (Cooperative Design; Co-Design) – As the name suggests, Participatory Design entails a commitment to including all stakeholders in the design process, aiming to ensure all needs are met and products are broadly usable.
Personas (Alan Cooper, 1990s) – a design technique, originally and principally used in the space of digital technologies, that is based on target audiences rather than scenarios. Designers first imagine the profiles of users and then attempt to take on the personas of those users when making decisions on the user experience.
Process-Centered Design – Situated principally in business (although embraced in multiple educational contexts), Process-Centered Design is focused on enabling established processes of the organization.
User-Centered Design (User-Driven Development) – Approaches to User-Centered Design are distinguished by their commitment to the principle that users should not be compelled to adjust their behaviors or expectations in order to accommodate a new product.
Wicked Problem – a social or cultural problem that is difficult or impossible to solve, owing to vague definition, inadequate knowledge (i.e., incomplete or contradictory), divergent stakeholder opinions, insufficient resources (e.g., funds, time)and/or evolving circumstances.
One way to understand Design Thinking is to contrast it with most popular models of problemsolving. The latter tend to be ends-focused, narrow, and linear (step-based), whereas the former are more possibility-embracing, broad, and recursive (iterative). To illustrate, here's a popular model of problem solving ...
Osborne–Parnes Creative Problem-Solving Model (CPS Model) (Alex Osborne, Sid Parnes, 1940s) – structured, six-step approach to develop solutions to complicate situations: 1. Mess-Finding (clearly defining the parameters and the goals); 2. Fact-Finding (collecting relevant information and observations); 3. Problem-Finding (critically reviewing and perhaps reframing or refining the problem); 4. Idea-Finding (generating ideas and options – through, e.g., brainstorming); Solution-Finding (applying selection criteria to reduce and hone the list of ideas and options); Action-Finding (devise and commit to a plan of action).
... and here are some popular models of Design Thinking:
Development Cycle (centuries old) – the process of developing merchandise, services, or systems, typically described as a sequence of (perhaps-iterative) steps that include research, design, testing, and refinement before release or delivery
Iterative Design – any design process based on successive cycles of improvement. Each iteration (i.e., round of the cycle) generates additional feedback and contributes to new improvements. (See Recursion, under Learning Cycle Metaphor.) Examples include:

Double Diamond Model of Design Thinking (UK Design Council, 2000s) – a model intended for both describing and framing the creative process, which is subdivided into four iterative stages (Discovery, Definition, Development, Delivery) that are organized into two cycles of divergent and convergent thinking.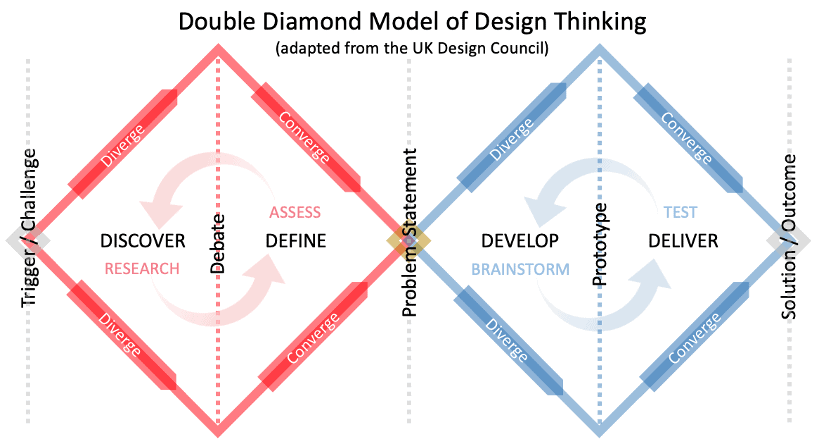 Laurillard Conversational Framework (Diana Laurillard, 1990s) – a model for describing and designing educational situations that comprises four main aspects (Teacher's Concepts, Teacher's Constructed Learning Environment, Student's Concepts, and Student's Specific Actions), four kinds of activities (Discussion, Adaptation, Interaction, Reflection), and eight kinds of flows (see image).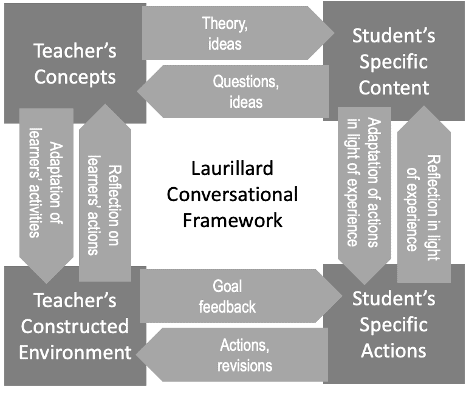 Commentary
The word "design" is used across educational sensibilities, and that sometimes prompts confusion around what Design Thinking is all about. Concisely, if the focus of discussion is on prescriptive, step-based approaches for action, it is not an instance of Design Thinking. Design Thinking frames its advice for action and innovation in terms iterative processes and emergent results (versus linear processes and pre-determined goals).
Authors and/or Prominent Influences
John E. Arnold; Bruce Archer
Status as a Theory of Learning
Design Thinking is not a theory of learning because it does not provide any insights into the complex dynamics of learning. However, it is attentive to its orienting metaphors.
Status as a Theory of Teaching
Design Thinking has been taken up in education as a perspective on teaching, offering advice on resource development, lesson preparation, task creation, classroom environments, and so on.
Status as a Scientific Theory
Design Thinking does not yet meet our threshold to be described as scientific, as current discussions in education tend to be more focused on giving advice that providing evidence of the effectiveness of that advice. That said, empirical evidence is emerging, and the discourse is well-supported through research into its grounding perspectives.
Subdiscourses:
Activity-Centered Design
Aligned Design
Architectural Psychology (Design and Behavior)
Cradle-to-Cradle Design (Cradle 2 Cradle, C2C, Regenerative Design, 2CC2)
Development Cycle
Double Diamond Model of Design Thinking
Ecodesign (Ecological Design)
Empathic Design
Human-Centered Computing
Human-Centered Design
Human-Centered Systems Thinking
Iterative Design
Laurillard Conversational Framework
Meta-Design
Osborne–Parnes Creative Problem-Solving Model (CPS Model)
Participatory Design (Cooperative Design; Co-Design)
Personas
Process-Centered Design
User-Centered Design (User-Driven Development)
Wicked Problem
Map Location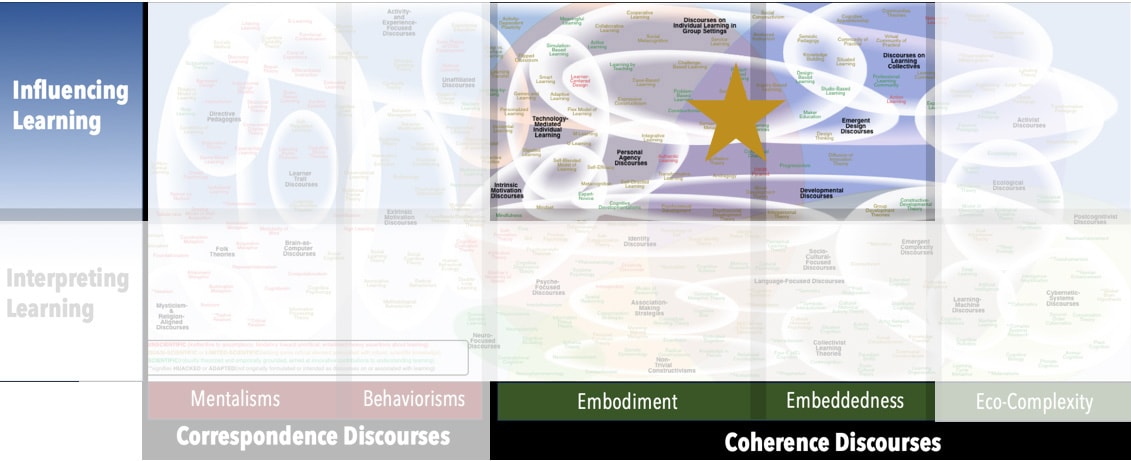 Please cite this article as:
Davis, B., & Francis, K. (2023). "Design Thinking" in Discourses on Learning in Education. https://learningdiscourses.com.
⇦ Back to Map
⇦ Back to List