AKA
Developmental Psychology
Lifespan Psychology
Focus
Qualitative shifts in modes of cognition
Principal Metaphors
Knowledge is … the range of developmental possibility
Knowing is … stage-influenced interpretations of prior construals
Learner is … a transforming individual (sometimes, an individual-in-context; rarely, a collective)
Learning is … construing and reconstruing
Teaching is … occasioning, prompting, triggering, listening
Originated
1940s
Synopsis
Within Developmental Discourses, learning is understood as a recursively elaborative process rather than a linear accumulative one. Most Developmental Discourses focus on how learners' key habits of perception and interpretation – that is, their strategies and preferences for construing and reconstruing ­their webs of understanding – change amid predictable sequences of biological, psychological, and emotional transformation. The basic idea dates back centuries, but it wasn't until the 20th century until a range of empirically grounded theories emerged, reaching across matters of individual cognition and social engagement.
Commentary
Developmental Discourses were initially criticized for models of growth and change that seemed to offer universal developmental stages, failing to account for differences across cultures and settings. Current theories have responded with appropriate qualifications and elaborations. A second common criticism is that models of development are often interpreted in terms of ladders or lock-step linear trajectories. While some developmental theorists had that sort of imagery in mind, most envisioned something more like expanding spheres of possibility, with each new stage including but transcending prior stages.
Map Location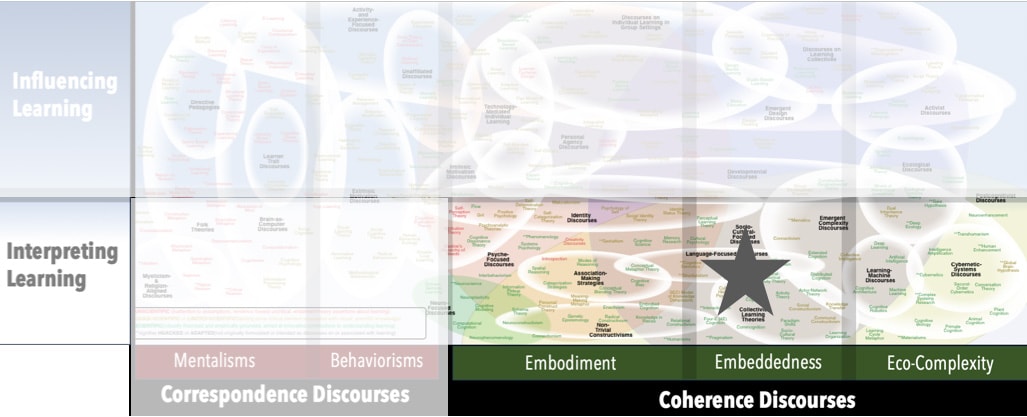 Please cite this article as:
Davis, B., & Francis, K. (2021). "Developmental Discourses" in Discourses on Learning in Education. https://learningdiscourses.com.
⇦ Back to Map
⇦ Back to List