AKA
Fun Learning
Focus
Bringing fun and amusement to formal learning
Principal Metaphors
Discourses associated with Entertainment and Learning are highly diverse, and so it would be inappropriate to link them to a unified cluster of metaphors. That said, the following notions work across most cases:
Knowledge is … objectives or goals
Knowing is … appropriate action
Learner is … an actor in need of motivation
Learning is … (tedious) acquisition or attainment
Teaching is … providing motivation through entertainment
Originated
Ancient
Synopsis & Commentary
Ostensibly, "entertainment" encompasses any form of engagement that involves fun or amusement. However, within education, the notion is applied most often to media productions aimed at influencing learning and learners. With that in mind, in our reviews of the discourses associated with Entertainment and Learning, we have been unable to identify a coherent through line, as they vary dramatically (and perhaps irreconcilably) around conceptions of learning, practices of teaching, and attitudes toward knowledge. We thus offer this entry as a sort of clearinghouse of discourses on learning that focus on fun and/or amusement. We begin with those that explicitly invoke the word "entertainment," after which we list the titles of discourses and subdiscourses that invoke "play," "toys," and/or "games." Notably, these latter discourses tend to be more explicit about assumptions, as elaborated elsewhere on this site (accessible through the Alphabetical Index).
Entertainment
Edutainment (Educational Entertainment) (1950s) – combining the words "educate" and "entertainment,"Edutainment can be applied to media that includes formal content and that is presented in a manner intended to amuse
Entertainment-Education (EE) – pieces of entertainment that are tailored to specific social issues, aimed at raising consciousness, encouraging shifts in behavior, and prompting social change
Social Impact Entertainment (SIE) – pieces of mainstream entertainment that aim secondarily to have social impact
Play
Main Entries:
Associative Play
Cooperative Play
Free Play
Guided Play
Independent Play (Solitary Play)
Ludic Learning (Ludic Pedagogy)
Make-Believe Play
Onlooker Play
Parallel Play
Play
Unoccupied Play
Toys
Main Entry:
Manipulatives
Froebel Gifts
Montessori Sensorial Materials
Waldorf Doll (Steiner Doll)
Objects-To-Think-With
Games
Main Entries: Associated Discourses and Subdiscourses:
Educational Games
Reacting Games
Games for Change (G4C)
Serious Games (Applied Games)
Authors and/or Prominent Influences
Wildly diffuse
Status as a Theory of Learning
To our analysis, few proponents of Entertainment and Learning are especially attentive to the complex dynamics of learning, apart from emotional and motivational aspects of fun and amusement.
Status as a Theory of Teaching
All discourses associated with Entertainment and Learning are principally concerned with teaching – and, most often, in relation to specific content.
Status as a Scientific Theory
Owing to their diversity of interests, it makes little sense to attempt to offer a one-size-fits-all characterization of the scientific statuses of discourses associated with Entertainment and Learning. In some instances, projects appear to be informed by careful study and principled action. Most often, however, it would appear that little attention is given to empirical study of learning.
Subdiscourses:
Edutainment (Educational Entertainment)
Entertainment-Education
Social Impact Entertainment
Map Location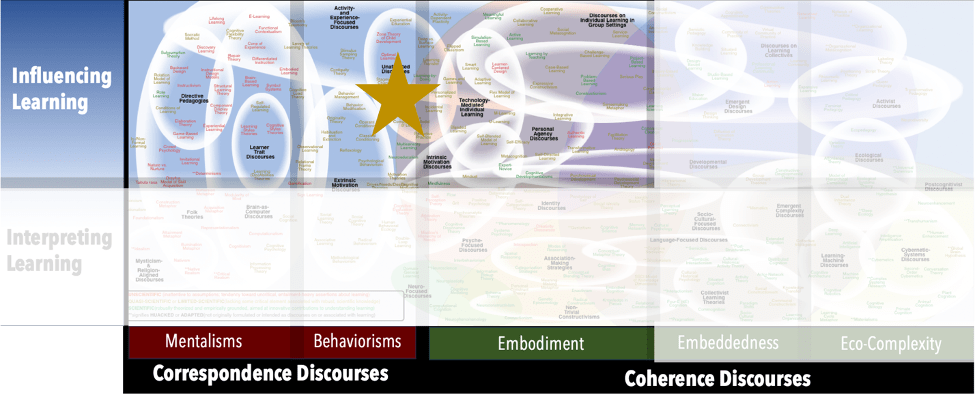 Please cite this article as:
Davis, B., & Francis, K. (2023). "Entertainment and Learning" in Discourses on Learning in Education. https://learningdiscourses.com.
⇦ Back to Map
⇦ Back to List