Focus
Emergence, development, and maintenance of senses of self
Principal Metaphors
Knowledge is … scope of possible identities
Knowing is … being; self-awareness
Learner is … an evolving agent
Learning is … becoming
Teaching is … N/A
Originated
Varied, but mainly through the first half of the 20th century
Synopsis
Psychology of Self is an umbrella category that reaches across a range of theories focused on matters of self-identity across multiple situations. Most of these theories attempt to explain how selves are formulated and maintained. Attempting a few-line summary of any of these theories would be profoundly misrepresentative, but a list of broad categories can be offered:
Commentary
Because it is a category of quite diverse theories rather than a singular coherent perspective, it doesn't make much sense to offer general commentaries on or criticisms of Psychology of Self.
Authors and/or Prominent Influences
Diffuse
Status as a Theory of Learning
Most theories under the umbrella of Psychology of Self can be understood as theories of learning, especially if the principal focus of learning is seen to be one's own identity.
Status as a Theory of Teaching
Theories under the umbrella of Psychology of Self are, in the main, not theories of teaching – although some were formulated with explicit interests in affecting senses of self (e.g., those associated with Psychoanalytic Theories).
Status as a Scientific Theory
The dramatic variance of perspectives and interpretations represented within Psychology of Self might be taken as an indication that the construct of "self" is not yet sufficiently understood for the domain to properly described as scientific.
Map Location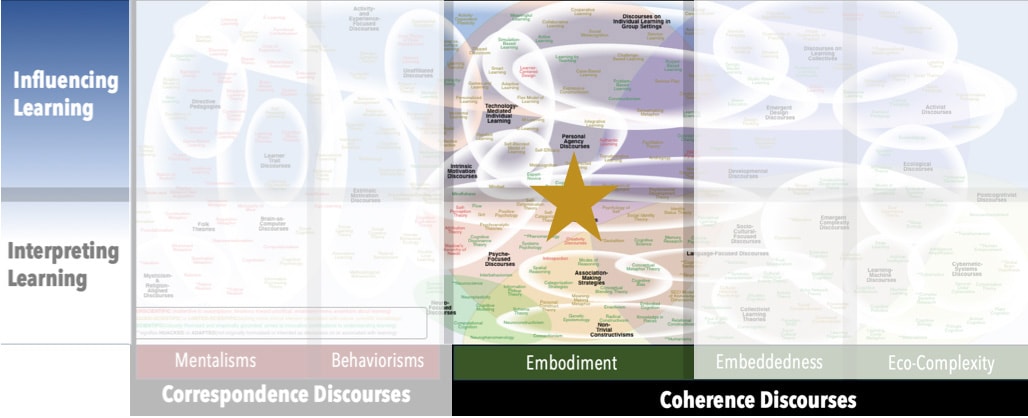 Please cite this article as:
Davis, B., & Francis, K. (2020). "Psychology of Self" in Discourses on Learning in Education. https://learningdiscourses.com.
⇦ Back to Map
⇦ Back to List