AKA
Cybernetics of Cybernetics
New Cybernetics
Second Cybernetics
Focus
Recursively elaborative dynamics among entangled dynamic systems
Principal Metaphors
Knowledge is … current range of functional possibilities
Knowing is … acting/responding appropriately
Learner is … adaptive system
Learning is … adapting, changing
Teaching is … triggering
Originated
1960s
Synopsis
Three popularly cited characterizations of Second-Order Cybernetics are: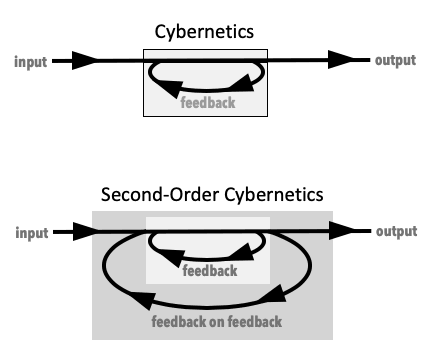 the Cybernetics of Cybernetics (i.e., the recursive application of Cybernetics to itself)
the study of Cybernetics by people who recognize themselves to be part of the system they're studying (or, the realization that there are no observerless observations)
the study of organism-plus-environment as a single system
Second-Order Cybernetics is, then, an elaboration of Cybernetics' core interest in circular causal relationships (feedback) between systems. The interest is extended to include phenomena that can involve feedback to feedback – that is, that have some level of responsive awareness. Second-Order Cybernetics thus simultaneously sparks and addresses issues of autonomy, self-referentiality, knowing, mind, and ethics. Associated constructs include:
Self-Reference – any instance of a system, rule, or discourse referring to itself. The concept is also invoked in mathematics, philosophy, systems thinking, computer programming, linguistics, and consciousness studies. Within Second-Order Cybernetics, Self-Reference is understood as recursive and as a necessary criterion for learning systems.
Aligned and emergent discourses include:
Artificial Life (Christopher Langdon, 1980s) – the study of life processes and the attempt to recreate aspects of biological phenomena through computer, robotic, and biochemical simulations – which, among other things, has demonstrated that "living" and "learning" are not dissociated processes
Sociocybernetics (Felix Geyer, 1990s) – a blend of Sociology and Complex Systems Research that embraces the insights of Second-Order Cybernetics. Sociocybernetics focuses on cooperative behavior.
Xenobots (Douglas Blackiston, 2020s) – synthetic, programmable lifeforms that are composed of biological tissues and designed to perform specific functions. Some are self-replicating. The technology is evolving quickly.
Commentary
Almost entirely, criticisms of Second-Order Cybernetics are based on either shallow readings or troublesome descriptions/applications.
Authors and/or Prominent Influences
Margaret Mead; Gregory Bateson; Heinz von Foerster; Gordon Pask
Status as a Theory of Learning
As with Cybernetics, it is more correct to say that Second-Order Cybernetics offers a theory of learning than Second-Order Cybernetics is a theory of learning. The domain is too broad to constrain it to one focus – even when that focus is as expansive as "learning."
Status as a Theory of Teaching
Second-Order Cybernetics is not a theory of teaching.
Status as a Scientific Theory
Second-Order Cybernetics easily meets our criteria for a scientific theory.
Subdiscourses:
Artificial Life
Self-Reference
Sociocybernetics
Xenobots
Map Location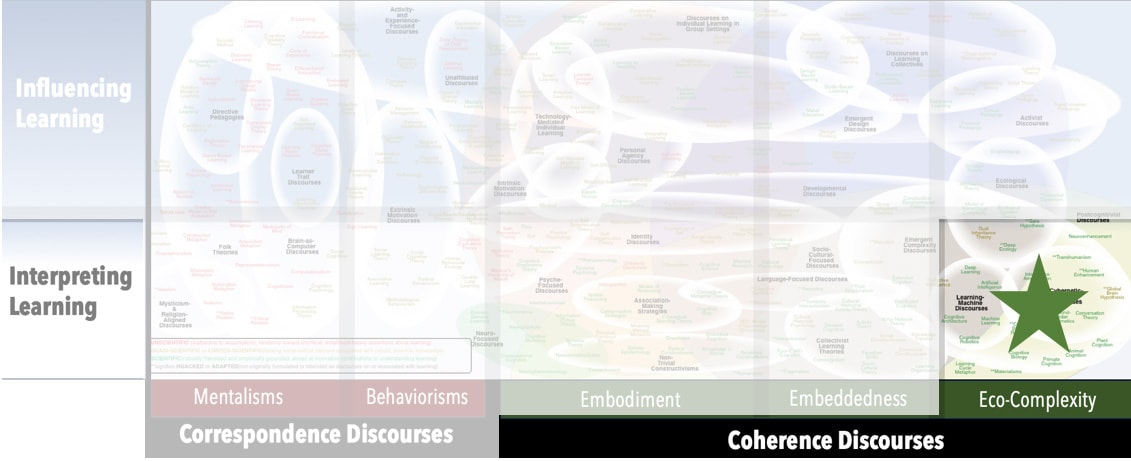 Please cite this article as:
Davis, B., & Francis, K. (2023). "Second-Order Cybernetics" in Discourses on Learning in Education. https://learningdiscourses.com.
⇦ Back to Map
⇦ Back to List