AKA
Alternative Schools Movement
Authentic Education
Education Reform Movement
Free School Movement
New Schools
Reform Education
Focus
Approaches that depart from standardized education
Principal Metaphors
There are many, many versions of Alternative Education, spanning ranges of sensibilities and ideologies. Consequently, there is no consistent set of associated metaphors. However, with only a few exceptions, varieties of Alternative Education tend to identify a common opponent – namely, conceptions of learning that are rooted in Folk Theories.
Knowledge is … not a thing
Knowing is … not an internal model of external things
Learner is … not an insulated and isolated individual
Learning is … not acquiring, constructing, internalizing, or seeing
Teaching is … not delivering, conveying, or telling
Originated
Several centuries ago, with the rise of standardized education – but, since the late 1800s as a discernable movement
Synopsis
The term "Alternative Education" has been applied to many educational movements, curriculum innovations, and teaching approaches that, considered en masse, are linked only in their rejection of mainstream philosophies and practices. For the most part, specific types of Alternative Education are fitted to discourses that sit in the upper right regions of our map, and many are specifically affiliated with Authentic Learning and Progressivism, with strong links to Activity- and Experience-Focused Discourses (especially Emergent Design Discourses and Activist Discourses) and approaches that emphasis group process (e.g., Discourses on Individual Learning in Group Settings and Discourses on Learning Collectives). Notable specific movements and examples of Alternative Education include:
Friends Schools (Quaker Schools) (first appeared in the early 1700s) – Rooted in the beliefs and practices of Religious Society of Friends (the Quakers), Friends Schools aim to provide both a good academic education and a community-based, spiritually rich character education.
Montessori Method (Maria Montessori, late 1800s) – Positioning the child as an eager learner, and informed by principles consistent with Non-Trivial Constructivisms, the Montessori Method is based on close observation of the individual child and aims to provide an environment to support learner initiative. Defining qualities of such environments include mixed-age classrooms (typically in clusters that span ~3 years), optional sets of study, specialized classroom materials made from natural materials, physical settings scaled to the learner, low teacher-student ratios, and very well-trained teachers.
Waldorf Education (Steiner Education) (Rudolf Steiner, 1910s) – Associated with Holistic Education(another subdiscourse of Alternative Education), Waldorf Education aims to develop all aspects of the learner – academic, artistic, athletic, and practical. While typically oriented by state-mandated curricula, individual teachers are permitted considerable autonomy around matters of topics of study, pedagogical methods, and classroom structure.
Modern School (Ferrer Modern School) (Francisco Ferrer, 1910s) – Originating after the execution of Francisco Ferror, a social anarchist, the Ferrer Modern School is a libertarian day school that supports children's play and advances radical politics while eschewing planned pedagogy and imposed curricula.
Holistic Education (Holism) (Jan Christiaan Smuts, 1920s) – Both a philosophy and a movement, Holistic Education is concerned with the integrated development of all aspects of the learner (frequently expressed in terms of "mind, body, and spirit," but sometimes emphasizing social/interpersonal relationships and cultural/democratic sensibilities).
Summerhill School (A.S. Neill, 1920s) – Oriented by the notion that the school should be made to fit the child (not vice versa), Summerhill School is a boarding school in Suffolk, UK that is organized as a one-person-one-vote democracy that includes all community members. Structured according to the principle of "Freedom, not Licence," citizens are permitted to do as they please, as long as their doings do not cause harm to others.
Reggio Emilia Approach (Loris Malaguzzi, 1940s) – Named after the region in Italy in which it began, the Reggio Emilia Approach is focused on preschool and primary school levels. It is developed around the principle that young children should be invited to present their ideas through any of their many means of self-expression (e.g., painting, writing, singing, drama). Aligned with Non-Trivial Constructivisms, school settings foreground notions of respect, community, exploration, play, and responsibility.
Freedom Schools (1950s) – Original part of the Civil Rights Movement in the United States, Freedom Schools were implemented as a temporary measure to provide free education to African American children that was on par socially, politically, and economically with the public education provided to other American children.
Open Classroom (1960s) – Rejecting segregations based on age, ability level, grade, and gender, the Open Classroom typically involves a large group of learners and several teachers. Much of the activity is accomplished in small groups that are selected according to interests, subject areas, and skill levels.
Open-Space School (Open-Area Classroom) (1960s) – Rooted in the same convictions as the Open Classroom, an Open-Space School is organized in large open areas (i.e., few or no physical classroom walls) that are intended to foster movement of teachers and learners according to need and interest.
Sudbury School (Daniel Greenberg, 1960s) – Named after the Sudbury Valley School in Framingham, MA, a Sudbury School has two defining qualities: (1) everyone is treated equally, and (2) all authority is rooted in democratic process. Students thus have complete responsibility for their own educations. There is no predefined curriculum and no prescriptive teaching.
Unschooling (Slow Learning) (John Holt, 1970s) – While subject to much variation in interpretation, Unschooling might be considered in terms of contrasts with formal schooling: informal, in natural settings, unscheduled, involving much play alongside everyday responsibilities, oriented by personal interests, amongst persons of different ages and expertise, free of preformulated expectations and grading structures, and so on.
Small Schools Movement (Small Schools Initiative) (Deborah Meier; 2000s) – Oriented by the conviction that smaller school populations are better for social connection and more opportunity for individual attention – and therefore more conducive to rich and robust learning – the Small Schools Movement recommends that high schools be kept under 200 students.
Small Learning Community (School-Within-A-School) (2000s) – Oriented by a desire for more personalized learning, a Small Learning Community is a model for subdividing large school populations in smaller, semi-autonomous clusters of students and teachers.
Commentary
Beyond signaling some of the common themes and prominent discourses encountered across most varieties of Alternative Education (as summarized above), given the differences in their historical and ideological influences, there is little point in attempting global commentary.
Authors and/or Prominent Influences
John Dewey; A.S. Neill, Maria Montessori
Status as a Theory of Learning
It is common among specific types of Alternative Education to identify with Non-Trivial Constructivisms and/or Socio-Cultural Theory. However, none can be appropriately described as a theory of learning.
Status as a Theory of Teaching
Most, if not all, varieties of Alternative Education can be appropriately described as specific perspectives on teaching, typically driven by combinations of specific theoretical and ideological convictions.
Status as a Scientific Theory
It would be stretch to use the word "scientific" to describe any single model of Alternative Education. While most draw directly on defensible theories of learning and some are based on systematic observation of learners (e.g., Montessori Method), almost every variety is more defined by its ideological allegiance than its scientific commitment.
Subdiscourses:
Freedom Schools
Friends Schools (Quaker Schools)
Holistic Education (Holism)
Modern School (Ferrer Modern School)
Montessori Method
Open Classroom
Open-Space School (Open-Area Classroom)
Reggio Emilia Approach
Small Learning Community (School-Within-A-School)
Small Schools Movement
Sudbury School
Summerhill School
Unschooling (Slow Learning)
Waldorf Education (Steiner Education)
Map Location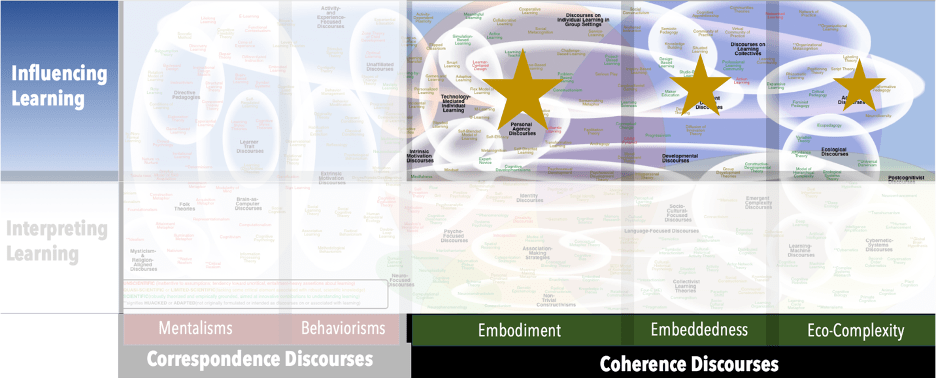 Please cite this article as:
Davis, B., & Francis, K. (2020). "Alternative Education" in Discourses on Learning in Education. https://learningdiscourses.com.
⇦ Back to Map
⇦ Back to List