Focus
Foregrounding the roles of health and wellness for learning
Principal Metaphors
Knowledge is … functioning
Knowing is … flourishing
Learner is … condition-sensitive agent
Learning is … meaning-making
Teaching is … orienting
Originated
1970s
Synopsis
Well-Being Discourses are concerned with the physical, mental, emotional, and/or social health of individuals. For the most part, these discourses are more concerned with the conditions of learning than the dynamics of cognition or approaches to teaching. Some consensus has arisen around the assertion that attending to learners' well-being is integral to all aspects of formal education. Common themes, constructs, and associated discourses include:
Adaptive Coping (not to be confused with the Adaptive Coping of Organizational Learning) – strategies used to manage stress and stressful situations, which can include both positive tactics (e.g., resilience, problem solving) and negative tactics (e.g., denial, wishful thinking)
Biopsychosocial Model (George Engel, 1970s) – an attitude toward nurturing well-being that looks across biological, psychological, and socio-environmental aspects
Caring (Ethics of Care) (Carol Gilligan, Nel Noddings; 1980s) – Emerging out of feminist theorizing in the last half of the 1900s, Caring was proposed as a metaphor for teaching, placing the focus onto the teacher–learner relationship and casting teaching in terms of responsiveness and attunement to the individual learner.
Character Education (Ethics Education; Moral Education) – an umbrella notion that is most often encountered in discussions of the sorts of values, morals, self-images, behaviors, etc. that are hoped might be supported, both directly and indirectly, through formal education. The phrase has also been picked up by commercial interests, and many prepackaged programs are available for purchase.
Flourishing/Languishing (2000s) – Drawn into education from the mental health literature, these are presented most often as the extremes of a personal wellness continuum (and, less often, as distinct states of being). Flourishing is associated with optimism and positive self-concept within an ecosystem of supportive relationships and healthy activity. Languishing is associated with debilitating self-perceptions and/or contexts.
Health Promoting Schools (World Health Organization, 1980s) – a discourse and movement aimed at establishing a holistic approach to health in formal educational settings, oriented by the assumption that health and learning are co-entwined. It promotes well-being through both the formal (explicit) and informal (implicit) curriculum while being attentive to influences on health that operate beyond the school.
Health Psychology (Health Care Psychology) – a branch of psychology concerned with the study and integration of behavioral, mental, physiological, social, and environmental factors for better health
Thriving (Posttraumatic Growth) (Richard Tedeschi & Lawrence Calhoun, 1990s) – positive changes, at either individual or collective levels, to harms that were brought about by traumatic events
Values Education (Value Education) – an umbrella notion applied to any process – formal or informal, explicit or implicit, deliberate or accidental – by which one develops one's sense of what is appropriate and inappropriate. Subdiscourses include:

Explicit Values Education – any version of Values Education that is associated with formal and explicit programs, including religious education and citizenship education
Value Learning (S.H. Schwartz, 1990s) – the complex process of developing personal values that are sufficiently stable and robust to serve as guides and motivators

Whole-Person Learning (C.A. Curran, 1970s) ­– a phrase that is used in different ways in different contexts – most of the time to frame formal education in terms of addressing the many facets of a learner (e.g., body, mind, emotions, spirit, moral, social), and less often to contemplate educational systems based on conceptions of learners as arising in and contributing to networks of relationships and interdependent systems
Wisdom (Sagacity; Sapience) – Even though meanings of Wisdom vary considerably across eras and cultures, it tends to be associated with a relatively consistent set of core qualities – few of which are ever explicitly aligned with the sort of education provided by a modern school. Most conceptions are oriented toward individual and collective well-being, whereby Wisdom is understood as a capacity to draw on cultural history and personal experience in ways that enable actions and interpretations which enhance health and happiness without exploiting others or compromising their well-being.
Commentary
In many ways, Well-Being Discourses might be viewed as reactionary, arising in response to deeply entrenched beliefs in the separations of mind from body and self from other. These dichotomies, which are hallmarks of Correspondence Discourses, are commonly cited as the sources of traditional schooling's emphases on suppressing both bodily action and social interaction – moves that, if not directly compromising to personal well-being, certainly do not contribute to health and wellness.
Subdiscourses:
Adaptive Coping (of Well-Being Discourses)
Biopsychosocial Model
Caring (Ethics of Care)
Character Education (Ethics Education; Moral Education)
Explicit Values Education
Flourishing/Languishing
Health Promoting Schools
Health Psychology (Health Care Psychology)
Thriving (Posttraumatic Growth)
Value Learning
Values Education
Whole-Person Learning
Wisdom (Sagacity; Sapience)
Map Location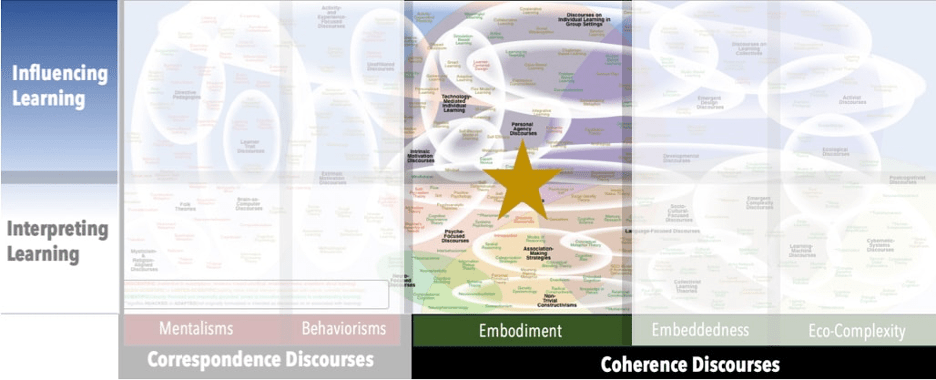 Please cite this article as:
Davis, B., & Francis, K. (2021). "Well-Being Discourses" in Discourses on Learning in Education. https://learningdiscourses.com.
⇦ Back to Map
⇦ Back to List