Focus
Exploring and exploiting collective settings and tasks to support individual learning
Principal Metaphors
Knowledge is … scope of possible actions and interpretations
Knowing is … contributing appropriately
Learner is … a collaborator
Learning is … developing understanding and/or skill
Teaching is … supervising, facilitating, guiding
Originated
1960s
Synopsis
Discourses on Individual Learning in Group Settings are concerned with matters of designing tasks, designating roles, and structuring contexts in ways that support the developments of individuals' conceptual understandings and soft (social) skills. Emblematic instances of Discourses on Individual Learning in Group Settings – that is, discourses that incorporate advice and insights from virtually every other discourse in the cluster – include:
Collaborative Constructivism – an umbrella notion that applies to any discourse on teaching that combines a focus on individual sense-making with collective-based support and validation of that sense-making
Cognitively Guided Instruction (1990s) – a model for teaching based on student knowledge and performance, with a strong emphasis on group process in which learners' methods and solutions are encouraged over imposed procedures
Engaged Learning (North Central Regional Education Laboratory, 1990s) – a model for teaching that advocates for a focus on learning through multidisciplinary, real-world projects that involve learners with diverse others in all aspects of design, implementation, and assessment
Process Oriented Guided Inquiry Lessons (POGIL) (The POGIL Project; 2010s) – a mashup of several principles drawn from Non-Trivial Constructivisms and Socio-Cultural-Focused Discourses, including teacher-as-facilitator/guide, tasks grounded in real-life experiences, emphasis on meaningful/practical applications, learner choice, student agency, critical engagement, self-managed teams, and an emphasis on the Learning Cycle Metaphor
Reality Pedagogy (Christopher Emdin, 2010s) – a mashup of several principles that are prominent among Discourses on Individual Learning in Group Settings, with "5 C's" serving as the core of the discourse: Cogenerative (collective) Dialogues; Coteaching (i.e., with students); Cosmopolitanism (student agency); Context (extending beyond the classroom); Content (in relationship to learner knowledge)
Because discourses in this cluster are concerned simultaneously with individuality and collectivity, they tend to share many constructs. However, the emphases afforded those constructs vary considerably across discourses – so much so that they can be used to distinguish among discourses:
Collectivism – perceiving of the individual as not just a member of a larger group, but as an integral element of a larger whole
Individualism – an attitude that emphasizes (and, in more extreme versions, privileges) the individual's rights, choices, beliefs, and relationships
Interpersonal – an adjective applied mainly to interactions (and the communicative and social skills that enable those interactions)
Interpersonal Learning Group – an umbrella notion that can be applied to any group that is formed for reasons that include improving self-understanding and social relationships
Intersubjective – meaning "between subjectivity," the adjective Intersubjective applies to situations where multiple individuals share personal experiences and interpretations in ways intended to influence one another's understandings and attitudes
Commentary
With the rise in prominence of Collectivist Learning Theories since the 1970s, advice to educators has split into two principal streams: Discourses on Individual Learning in Group Settings and Discourses on Learning Collectives. The former cluster is encountered much more frequently in both professional and research literatures – which shouldn't be surprising, given the popular tendency to conflate "learner" with "individual."
Subdiscourses:
Cognitively Guided Instruction
Collaborative Constructivism
Collectivism
Engaged Learning
Individualism
Interpersonal
Interpersonal Learning Group
Intersubjective
Process Oriented Guided Inquiry Lessons (POGIL)
Reality Pedagogy
Map Location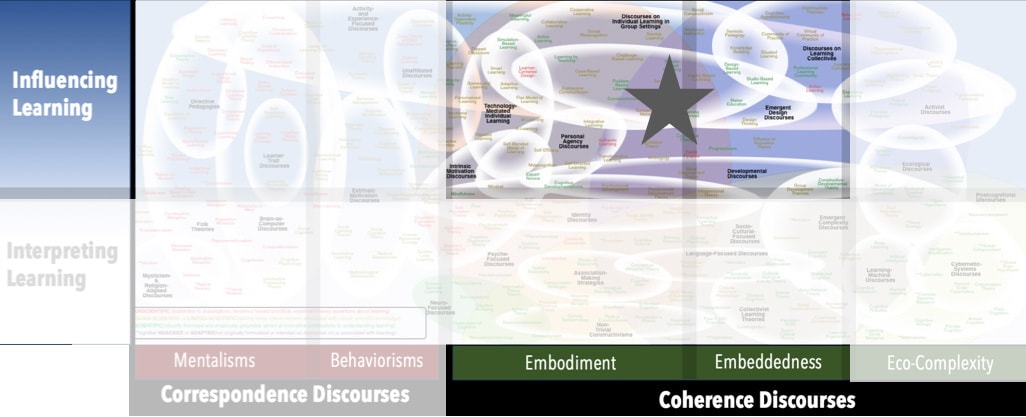 Please cite this article as:
Davis, B., & Francis, K. (2021). "Discourses on Individual Learning in Group Settings" in Discourses on Learning in Education. https://learningdiscourses.com.
⇦ Back to Map
⇦ Back to List